Point of Rocks Homes For Sale - Sarasota

Find all of the newest Point of Rocks homes for sale and real estate listings in Siesta Key, FL below! Tourists flock to Sarasota Florida for its 99% pure quartz beach, the Siesta Key Beach. The quartz composition of the Siesta Key Beach makes it perfectly cool and comfortable on the feet even on a hot day. In the 1987 Grand International White Sand Beach Challenge, the Siesta Key was hailed as having the finest and whitest beach sand in the globe.
Siesta Key real estate on this beautiful Sarasota Florida barrier island is always in high demand. Communities in the Siesta Key are plenty and one of the most beautiful neighborhoods with very nice residential homes is Point of Rocks.

Homes for Sale in Point of Rocks Siesta Key
June 3, 2023
$6,650,000
Med. List Price
Waterfront Homes at Point of Rocks in Sarasota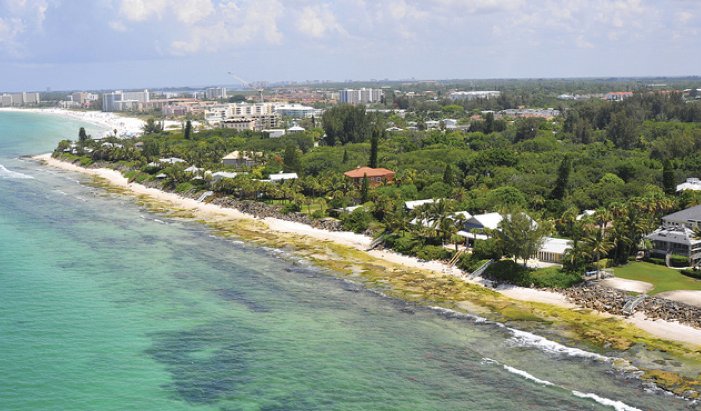 Point of Rocks is an exclusive neighborhood located on the shores of the Gulf of Mexico. Its name is derived from the rock headlands and underwater rock formations found in the subdivision that extend to the gulf. Florida folklore suggests that these were used as hiding places for all the loot pirates plundered from trading vessels that sailed across the gulf and Florida keys. These rock formations are perfect for diving and snorkeling activities as they are rich in limestone with deep crevices that are teeming with some of Mother Nature's most beautiful fish species.
Today, Point of Rocks Siesta Key has a selection of fine beach-style homes set against a lush tropical landscape. Since the neighborhood has the highest elevation on Siesta Key, it is one of the most highly-protected communities against storms, hurricanes, and coast flooding.
While residences in Siesta Key Point of Rocks are not in a beach front, residents do enjoy stunning views of the Florida sunset and the Gulf of Mexico. Inventory of homes for sale in Point of Rocks is very small but investors do wait for a chance to own a home in this unique Siesta Key headland neighborhood. Point of Rocks makes a great get-away home for those who enjoy beaches, underwater activities, and the big-city culture that is just around the corner of the Siesta Key.
Point of Rocks is a secluded waterfront neighborhood on Siesta Key. It is located just south of Crescent beach and is named for the smooth, limestone rocks on the beach. It is a great place to snorkel and view some of the local wildlife. Many of the homes have that "Old Florida" relaxing feel. However, some of these have been torn down to make way for more modern structures. The landscaping is very lush in the Point of Rocks neighborhood offering overgrown, more natural look. The homes along the beach have a very high elevation providing fabulous views of the Gulf of Mexico.