Sarasota Harbor East & West Condos For Sale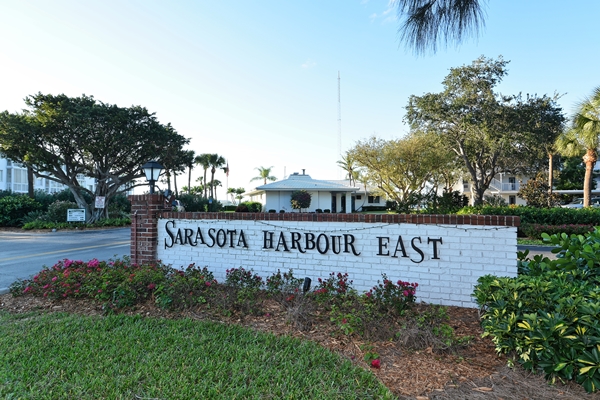 Picturesque waterfront scenery, superb amenities and comfortable condos all abound in Sarasota Harbor East, one of the city's premier residential complexes. Situated on beautiful Sarasota Bay, Sarasota Harbor East is a 55+ residential community that enjoys everything from striking panoramic vistas to a leisurely atmosphere to easy access to Downtown Sarasota and Sarasota-Bradenton International Airport. For homebuyers seeking a laidback, friendly community with spectacular scenery, few better options are available than Sarasota Harbor East. Its mix of breathtaking views, prime location and excellent amenities make it make one of the most desirable communities in the Sarasota area. Read more about Sarasota Harbor East & West condos.


Condos for Sale in Sarasota Harbor East/West Lido Key
December 3, 2023
Condos in Sarasota Harbor East
Sarasota Harbor East boasts elegantly appointed and maintenance free condos with enchanting waterside views and convenient access to onsite and local amenities and sites of interest. Ideal for retirees seeking a laidback and comfortable place to spend their golden years, the charming condos of Sarasota Harbor East beckon those looking for the good life in Florida's abundant sunshine.

The community, in addition to its phenomenal scenery and comfortable homes, also enjoys a wealth of local amenities and attractions to sample. Residents can enjoy onsite amenities such as a community pool, waterfront parkland, shuffleboard, a community clubhouse and a boat dock, all set against the striking scenery of Sarasota Bay. Within easy walking distance lie the countless shops and restaurants of St. Armands Circle and the scenic beaches of Lido Key, offering a rich variety of shopping and dining options as well as outdoor activities like swimming, boating, fishing and much more. Golfers will also appreciate the community's close proximity to many of Sarasota's renowned golf courses like the Bobby Jones Golf Club while lush parks such as Phillippi Estate Park and Myakka River State Park are easy to find as well. Acclaimed cultural attractions such as the South Florida Museum and the Ringling Estate are also within convenient driving distance while Westfield Southgate and Westfield Sarasota Square offer a wide array of shops and boutiques to explore.

When it comes to leisurely living in a breathtaking location, there's no better place to spend your golden years than Sarasota Harbor East. With its comfortable homes, scenic location and easy access to local shops, restaurants, beaches and golf courses, Sarasota Harbor East is the perfect place to retire in peace and serenity.
Photos of Sarasota Harbor East/West