About Downtown Sarasota
Properties For Sale | Golden Gate Point | Downtown Videos | City Life | Why I Bought in Downtown | Map | Downtown Highlights & Resources

No matter which stage of life you find yourself in, life in downtown Sarasota is about more than just concrete, windows and square footage. It's about lifestyle. It is only here that you will find yourself living the kind of lifestyle most people only dream of living. It is here you can marry a life of luxury with the casual feel of beach living. Weekends are perfectly spent making the short drive over the bridge onto the white sand beaches of the barrier islands with the children. If you're retired and finally able to live life on your own terms, perhaps a round of golf on one of the many championship golf courses located only minutes from your front door sounds like a perfect way to spend a weekday morning. Retired, working, or raising a family, evenings are perfect for a pre-dinner cocktail on the bay at the Ritz-Carlton and a delicious dinner at one of downtown's many upscale restaurants.
Downtown Sarasota Videos
---
Downtown Sarasota Lifestyle Explained by a Resident
For me, a huge part of Sarasota's charm is the cool combination of big city cultural venues and easy-going small town charm… and then of course, there's the amazing waterfront! Day or night, there's plenty to do, whether you're into outdoor recreation, the arts or just daydreaming the day away on picture-perfect beaches.

I love strolling downtown, roaming the shops and then stopping for a cup of coffee and a perfect pastry at Allegra at Whole Foods, my absolute favorite café. If you like a little entertainment along with your retail therapy, check out downtown's First Fridays, monthly events when shops and galleries are open late with complimentary refreshments. Be sure to save some money for Saturday though, when the Sarasota Farmers' Market opens up with loads of crafts, jewelry, local produce and awesome breakfast foods. My friends and I love to grab some fresh-baked muffins and fruit and head down to the waterfront for a little picnic in the grass.
Which brings me to one of the very best features of my favorite city – it's right on drop-dead gorgeous Sarasota Bay. Cool mornings are perfect for walking the Ringling Bridge, cycling to Island Park or just packing up the car and taking the short drive out to Lido, Siesta or Long Key where sugary white sands fringe those gorgeous translucent Gulf waters. You can swim, sun, snorkel or rent water sport equipment for some seaside fun.

Flowers are everywhere here! The Marie Selby Botanical Gardens are the perfect place to while away a balmy afternoon among rare orchids, mysterious mangroves and glimmering koi ponds. If you want to be where the really wild things are, head over to the Sarasota Jungle Gardens where you can roam ten spectacular acres of tropical gardens or have a turn at holding an eight-foot Burmese python at the bird and reptile show!

Sarasota's lively arts scene rivals that of any city in the country, just one reason it's known as the Cultural Capital of Florida. Visit awe-inspiring museums and impressive galleries by day, or experience the wonder of artistic evenings. You can head to The Ringling Museum of Art's after-hours event, Art After 5, for cocktails and a stroll through the exhibits, or check out Friday evening art walks at Palm Avenue, Towles Court and Burns Court for live music and open galleries and studios.

You can't be in Florida and not have a special sunset ritual, and one of my absolute favorites is combining beauty and exercise by walking the Ringling Bridge as the sun goes down. Once darkness falls and the city lights are twinkling, we sometimes take the dog, stroll down Main Street and slip into the marina to roam the docks, view the visiting boats or just watch the stars come out.

The end of the day also signals the time for one of Sarasota's very fine and very cheap happy hours – check out great views of Bird Key and super drink prices at Marina Jacks or go upscale with magnificent martinis under the umbrellas at Mattison's. If you're still hungry after all those delicious tapas, there are a myriad of restaurant options; Sarasota is truly a foodie heaven! You can dig into anything from Mediterranean fusion at chichi Mozaic to top-notch seafood at delightfully funky Owen's Fish Camp.
Downtown Sarasota Resident
---
Why I Bought in Downtown Sarasota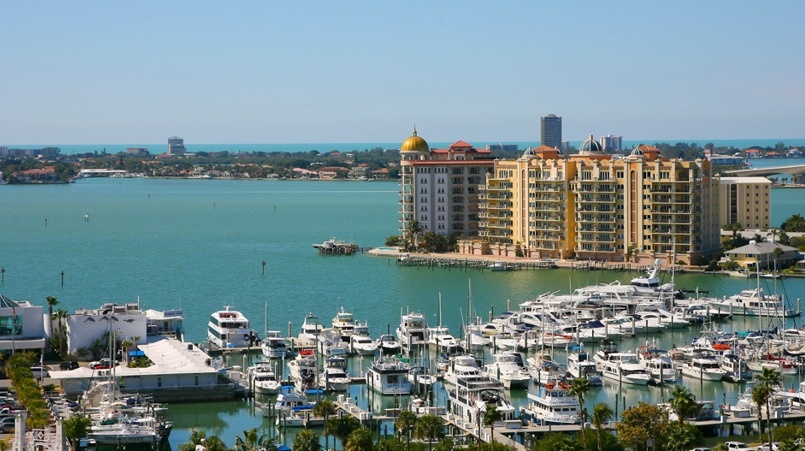 I asked a client of mine to write about why he chose to purchase a downtown Sarasota condo. He was nice enough to write the following:
Downtown Sarasota: Sophisticated, Urban and Manageable
On June 30, we closed on our new home in downtown Sarasota. It was the culmination of a four-year process that took us to three continents in search of a new place to live.
New York City had been our home for more than 30 years. We loved the theater, the dance, the music, the museums and the art, the access to some of the world's best shopping and restaurants. Those are the positives, but there were negatives, too: the congestion, the prices, the subways at rush hour, and the general pace of things.
We made a list of cities we might consider – Paris; Palm Springs; Santa Fe; Sydney; Saratoga, New York and Vancouver –- and we travelled to each of them at least once to check them out. We were looking for a manageable, sophisticated urban environment, a reasonable cost of living, and an active arts scene Each had a lot to offer, but none of them captured both of our fancies or imaginations.
Enter Sarasota.
Last February my partner was visiting his elderly mother in the Tampa area and decided to take her on an outing. They ended up in Sarasota. He called to say he was at Lido Beach, and he had never seen a beach so perfect anywhere in the world. He gushed about the sand, the breeze and how perfect the water looked.
A couple of hours later he called again, this time to rave about the downtown area. "It's a real downtown with a real Main Street, and there is a restaurant for almost any taste: tapas, seafood, Italian, a steak house, Peruvian, Belgian, French, and a very cool club. Not only that, but Patty LuPone just played here, Itzak Perlman was playing tonight, and the Joffrey was coming in for a run."
He had my attention, and we both scheduled a trip down to take a close look. We called a realtor to show us around. (We called three actually. We explained we would fly down from New York City for a couple of days, and two of the realtors said they could spare an hour or so for us.) We found the third realtor online, and we contacted him. In less than an hour, Marc Rasmussen got back to us with pertinent questions about what we wanted and said he would be happy to spend all the time we needed when we visited.
Sure enough, we came back down to Sarasota. Marc picked us up at our hotel and showed us a variety of properties in different locations and at different price points to give a feel for the market. Over the next few months, we worked closely with him through numerous emails, text messages, phone calls and visits.
He always had time for us, always got back to us with helpful and incisive information, and always retained his Rock of Gibraltor calm throughout the emotional roller coaster ride of selecting, negotiating for and closing on a new home. He even recommended a terrific attorney, Anne Weintraub, and an insurance agent, Robert Ludwig.
We've been in downtown Sarasota for seven weeks now, and there is no buyer's remorse. Three or four days go by at a time when we don't drive our car; we walk to a different restaurant several evenings a week; we just saw a play, "Sylvia," that we missed in New York a few years ago; we have our tickets for a Diana Kral concert in the fall; and we are choosing among a number of other musicals, dance performances and opera.
In other words, it's everything we wanted. A small, manageable urban environment with sophistication that rivals just about anyplace else.
Alan Dee
---
Location of Downtown Sarasota
---
Downtown Sarasota Community Highlights
Residents enjoy the central location featuring over 10 theaters, 30 art galleries, dozens of shops and boutiques as well as dining and nightlife
Known to have some of the whitest sandy beaches in the world, spanning over 35 miles along the Gulf of Mexico
Popular attractions include Universal Studios and Disney World in nearby Orlando
Known for year-round events such as the Sarasota Film Festival, the Annual Chalk Festival, numerous art festivals as well as weekly farmers' markets
The construction of the new Ringling Bridge has increased the walkability and biking of the area, now connecting Bird Key and St. Armand's Circle
Downtown Sarasota Information Resources