We Joined Who's Who in Luxury Real Estate
Posted by Marc Rasmussen on Thursday, April 13, 2017 at 2:58 PM
By Marc Rasmussen / April 13, 2017
Comment

In an effort to serve our luxury clients better and our agents who service them we are proud to announce our affiliation with Who's Who in Luxury Real Estate.
For more than 30 years, Who's Who in Luxury Real Estate has represented the world's top high-end real estate professionals and established a reputation for providing our members with the best possible marketing tools and solutions.
Known in the industry since 1986 as the Who's Who in Luxury Real Estate network, a global collection of the finest luxury real estate brokers in the world, this group of more than 130,000 professionals with properties in more than 70 countries, collectively sells in excess of $190 billion of real estate annually. Members are selected by Chairman/Publisher John Brian Losh, one of REALTOR Magazine's 25 Most Influential People in Real Estate and broker of fine properties through his Seattle-based brokerage firm, Ewing & Clark, Inc.
The company has also been recognized by the Maggie Awards, received an ADDY Award for excellence in Web Design, ranked in the Inc. 5000 List and named as one of the 100 Fastest Growing Private Companies by the Puget Sound Business Journal.
Global Reach
Luxury Real Estate members meet and network several times a year, developing personal relationships resulting in on-going referrals. Consisting of 3,867 offices in 37 countries and 130,996 sales associates representing more than 65,000 properties in over 68 countries, Luxury Real Estate is the most comprehensive luxury real estate network in the world.
Consumers in over 200 countries perform searches on LuxuryRealEstate.com every month. By adding your luxury properties to LuxuryRealEstate.com, you are exposing them to a truly global audience.

LuxuryRealEstate.com
LuxuryRealEstate.com, frequently ranked 'Best Website' in consumer and industry surveys, has been recognized for excellence by the WMA Awards and the Webby Awards and has been voted 'Best of the Web' by Forbes magazine multiple times. Since its debut in 1995, LuxuryRealEstate.com has remained the #1 portal for luxury properties on the internet and has several times more $1,000,000+ content of any near-peer.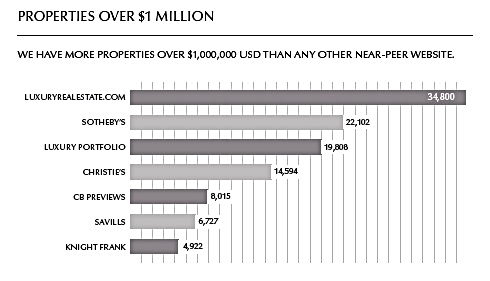 Luxury Real Estate Magazine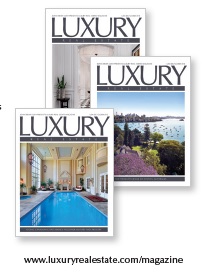 Published three times a year, this award-winning publication with a distribution of 50,000 is sent to high net worth individuals across the globe. Stocked on international newsstands and international airline lounges in over 80 countries.
PRINT DISTRIBUTION (50,000)
• 10,000 poly-bagged with Unique Homes
• 10,000 to international newsstands (reach into 80 countries)
• 9,500 placed in international and U.S. airline lounges
• 8,000 to top clients of Who's Who in Luxury Real Estate Members
• 5,000 direct mailed to entertainment industry and sports celebrities
• 5,000 direct mail to advertisers and Who's Who in Luxury Real Estate members
• 1,000 direct mailed to individuals in the U.S. with a net worth of $40 million+
• 1,000 to Fortune 1000
• 500 to the top 500 CEOs in the U.S.
If we can help you purchase or sell Sarasota luxury real estate please contact us.