Stage Your Home To Sell
Posted by Marc Rasmussen on Saturday, February 5, 2011 at 7:42 AM
By Marc Rasmussen / February 5, 2011
Comment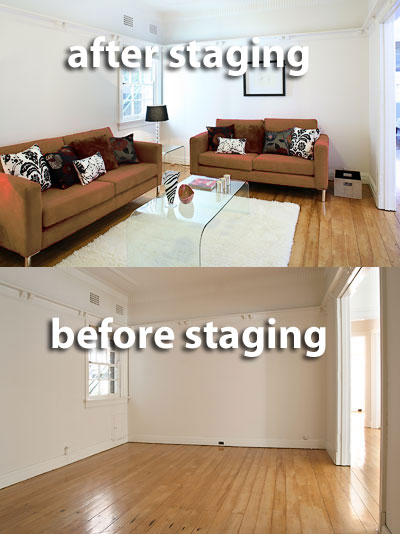 Making minor improvements to your house or condo can go a long way in attracting potential buyers.

In order to sell, your home depends on three things: price, location and condition. Sprucing up your home's aesthetics – also known as staging – can make a big impact on maximizing its value. Your home is competing with many other homes on the market, so buyers are constantly visiting loads of homes and making comparisons. They often have a set of specific features that they're looking for, and if your home is lacking too many of those "ideals," you may receive only low bids – or none at all.

Prospective buyers tend to prefer neutral living spaces void of personalized items and other clutter that may distract them from your home's advantages. Staging your house or condo requires more than just following standard "design-to-sell" techniques," such as cleaning and organizing. An experienced and knowledgeable realtor can help you with staging your home, but understand that this can be a touchy subject for both parties. It's not always easy to honestly discuss the less attractive aspects of someone's home, but if done correctly, you can transform your home into a highly marketable product.
Here are some practical tips for making your home more inviting and appealing to prospective buyers:
Remove or simply pack up all clutter and excess personal items from the tops of your furniture, kitchen and bathroom countertops and the front of your refrigerator. Eliminate extra furniture if possible, and keep your decorative objects and photographs to a minimum. Most realtors will tell you that maneuvering around unnecessary furniture when viewing a home is a turnoff for most buyers. You want your rooms to appear as large as possible. Remember, less is almost always more.
Clean carpets, patch paint and organize your closets. If your closets are jammed-packed, you may want to create extra space by putting items in storage. Buyers look for spacious closets, and a full closet can give them the impression that it's too small.
Trim hedges, weed any overgrown landscaping, mulch planting areas, mow the lawn, sweep gutters, and fix any broken fencing or paving. You may also want to power-wash your patio decks and driveway. Check for chipped paint, especially the front door, and consider whether your home's exterior could use a quick paint job.
Ask your Realtor to point out any other issues, specific to your home, which may distract prospective buyers from effectively evaluating your home's curb appeal or even its construction.

John Sabia

Fort Lauderdale Real Estate