Siesta Promenade, a New Development That's Headed to South Sarasota
Posted by Marc Rasmussen on Thursday, September 7, 2023 at 10:15:01 AM
By Marc Rasmussen / September 7, 2023
Comment
The project, which will be located at the corner of Stickney Point Road and South Tamiami Trail, will break ground early next year.
Article courtesy of Sarasota Magazine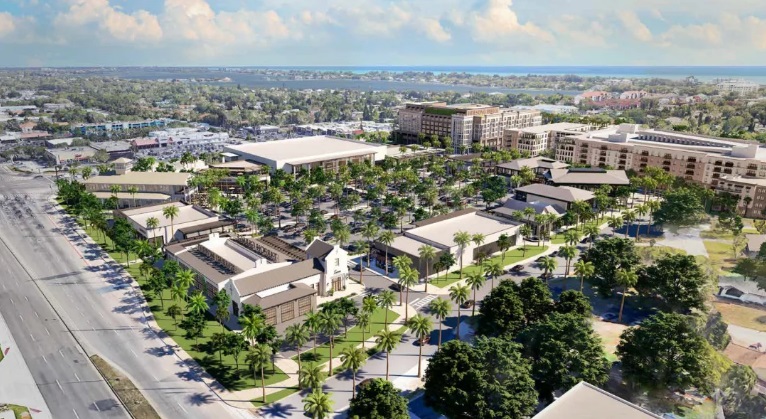 Mega-developer Benderson Development is poised to break ground on Siesta Promenade, which will change the face of the gateway to Siesta Key in south Sarasota.
And as the project at 6450 S. Tamiami Trail inches toward groundbreaking in 2024, Benderson Development gave us an exclusive look at what's coming to the long-vacant site.
The 24-acre Siesta Promenade project, near the "south bridge," as locals call it, will start going up early next year. It's headed to the northwest corner of South Tamiami Trail and Stickney Point Road—"what we believe to be one of the best available corners in the state," Benderson's vice-president of retail development Rex Burgher told us all the way back in 2005.
The project will comprise a total of 10 retail and restaurant buildings, including a yet-to-be-named grocer. It will have 140,000 square feet of retail space, with a minimum of 7,000 square feet of office space, and an apartment building with 414 units, 25 of which will be affordable. The affordable units will target those earning 80 percent of the area's annual median income, which amounts to $51,200 for one person, and $73,100 for a household of four. It's Benderson's first multifamily development in Sarasota County.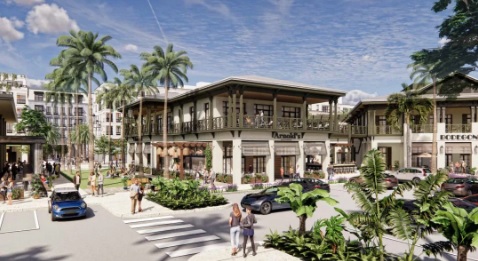 Siesta Promenade will also include an 80-foot high, 130-room hotel, which will be larger than any single hotel on nearby Siesta Key, where space for such a dense hotel is limited.
The building heights will transition across the property, with the hotel being the highest point. That said, some details as far as the number of levels of each building may shift ahead of groundbreaking, according to Benderson's marketing director Julie Fanning. The hotel and grocer will be located on Stickney Point; the residences will be located to the north of the project, tucked away from heavier traffic; and some of the retail and restaurant spaces will face the bustling South Trail.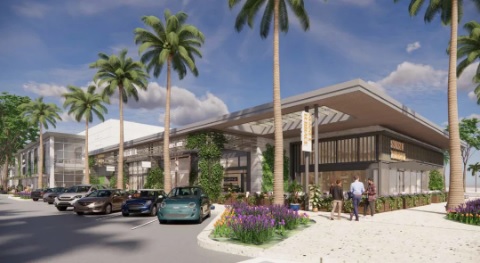 Retail and residential will be built in unison and take about two years to complete, and the hotel will follow. "The intent is for the shops and restaurants to be open when residents move in, so they can immediately enjoy the on-site amenities and lifestyle experiences," says Fanning.
Benderson acquired the site in 2005 for $17.1 million. It formerly housed a Shell gas station and the Pine Shores Mobile Home Park, where there were roughly 140 mobile homes.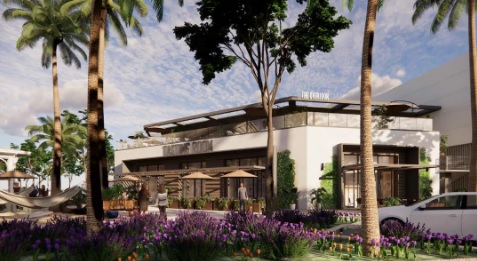 Siesta Promenade was approved by Sarasota County in 2018. "The property was always intended to be a mixed-use development, but the design has evolved over the planning process from a town center to a neighborhood destination with a coastal village feel," Fanning says.
The collection of buildings will feature a variety of architectural styles, from Florida modern to coastal contemporary, "The village environment will be enhanced with landscaping and plenty of inviting outdoor spaces to relax and recharge," Fanning adds.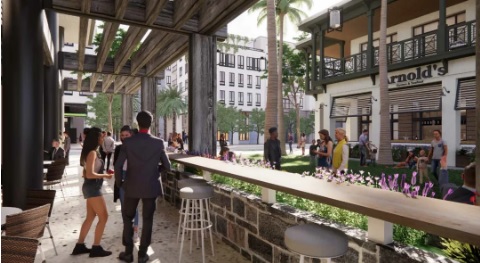 On Sept. 27, the Sarasota County Commission will vote on a decision on plans to add 39 parallel parking spaces along Glencoe and Crestwood avenues, which are residential roads. That's a point of contention for nearby residents, but Fanning says that adding the spaces "is one of many traffic-calming measures being considered by Benderson to maintain the neighborhood feel and create a more pedestrian-friendly area."
Opponents, however, say the extra parking does not comply with the stipulations agreed to as part of the county commission's initial approval of the development, which included a 20-foot landscaped buffer for the neighborhood, instead.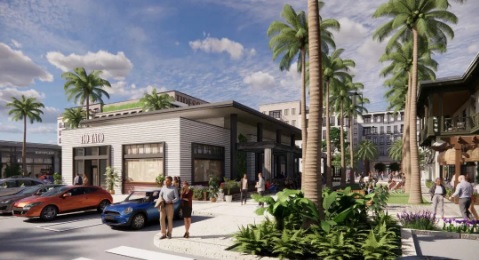 Founded in 1949 in Buffalo, New York, Benderson Development's portfolio includes more than 800 properties and more than 50 million square feet in 40 states, including grocery-anchored centers, warehouse-industrial properties, offices and hotels.
In March, Benderson Development opened a Publix at The Landings on U.S. 41 south of Proctor Road, and is also working on Fruitville Farms, a Publix-anchored mixed-use development now underway at the intersection of Fruitville Road and Lakewood Ranch Boulevard. Benderson also recently closed on the former Café Baci restaurant on 4001 S. Tamiami Trail and purchased the Walgreens on the corner of Bee Ridge and Beneva roads.
Last year, the company acquired the Sarasota County administration building and surrounding parking lots last year. It plans to redevelop the property by the end of 2025 and build a mixed-use development of residential, office and retail spaces.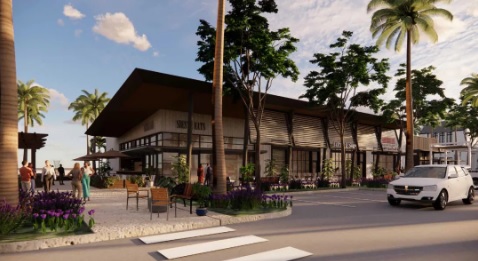 "Tamiami Trail and Stickney Point Road is the literal gateway to Siesta Key—a world-renowned tourist destination," Fanning says. "The property had been severely neglected when we acquired it, presenting a tremendous opportunity. When complete, it will be a vibrant destination for both locals and visitors to enjoy."