Siesta Key Made the New York Times
Posted by Marc Rasmussen on Wednesday, September 9, 2009 at 2:43 PM
By Marc Rasmussen / September 9, 2009
Comment
Here is a great article from the New York Times about Siesta Key beach. I reprinted the article below.
If They Gave Awards for Sand ... Well, They Do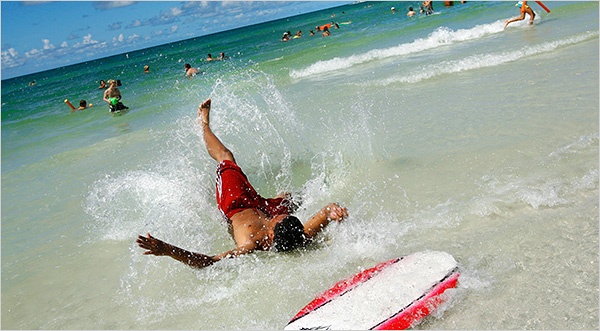 Fate smiled on Siesta Key, near Sarasota on Florida's Gulf Coast, giving it powdery white quartz sand that stays cool even in the hottest summer weather.
By ELIZABETH MAKER
Published: September 4, 2009
SUMMER may seem an odd time to flee to Florida, but thanks to a happy accident of geology, there's one small island there that may be better to visit the more the mercury rises.
"Do you really have to put this in your paper?" asked a frequent visitor, Linda Guckenberger of Columbus, Ind. "Siesta Key is a hidden treasure, especially in the summer. The heat in Indiana is oppressive in August, so when we tell people we're going to Florida, they think we're nuts. They say, 'Why aren't you going north?' "
Siesta Key, an eight-mile-long, crescent-shaped barrier island on the Gulf Coast south of Sarasota, is becoming more popular in hotter months as tourists discover its powdered-sugar white sand that seems always to stay cool, no matter how high the heat outside. Other enticements include cool gulf breezes; clear, temperate, turquoise water; and huge discounts on accommodations from July through September at luxury high-rises, cozy cottages and funky beachfront bungalows.
Summer seems to lure mainly Midwesterners and Europeans to Siesta Key, said Dale Nelson, a volunteer with the Siesta Key Chamber of Commerce, while winter is the province of Northeastern and Canadian snowbirds.
Ms. Guckenberger and 15 family members have been renting the same neighboring condos at Siesta Sands Beach Resort for two weeks every summer for the last eight years. "It really is 'The World's Finest, Whitest Sand,' " she said, mentioning the title the beach won in 1987 in the Great International White Sand Challenge, adjudicated by Florida International University.
This year Stephen Leatherman, known as Dr. Beach and director of the university's Laboratory for Coastal Research, named Siesta Key's beach as the second-best in the nation. (Hanalei Bay on Kauai, Hawaii, was first.)
"I use 50 criteria to rate every beach, and in terms of sand alone Siesta Key is definitely the best in the world," Dr. Leatherman said. Science backs up the hyperbole: Siesta Key's beach is 99 percent limestone quartz, which stays consistently cool and silky.
Why the other archipelagic islands nearby didn't get the same sacred sand is harder to explain. Hop over to Lido Key to the north, or Casey Key to the south, and you'll find the more typical crushed-shell beaches that are beautiful but make barefooting a painful proposition when the sun is searing. "Why is it like this on Siesta Key and nowhere else?" asked Mark Smith, president of the Siesta Key Village Association. "Because God loves us? Who knows?"
Actually, Dr. Leatherman said, quartz grains deposited from the southern Appalachians over millennia settled in a protected pocket around Siesta Key. "Other beaches have a mix of all kinds of minerals that make the texture coarser and the color darker, but Siesta Key is all refined quartz," he said. "It's cushy and squeaky and absolutely dazzling."
Siesta Key was virtually uninhabited until the 1880's (except by rattlesnakes, copperheads, wild boars and the like). First called Sarasota Key, it was connected to the mainland in 1917 when the first of two bridges was built and the island was discovered by an eclectic mix of artists, writers and business professionals. Residents changed the island's name to Siesta Key in the 1920s.
The island has a population of 9,581, which almost doubles in winter, according to the 2000 census.
The village has just undergone a multimillion-dollar makeover. Utility wires have been buried; concrete sidewalks were replaced with wider brick walkways, 16 new brick crosswalks have been laid; elegant lamplights, benches and a gazebo have been installed; and flowering, fragrant landscaping and black olive shade trees were planted along its main street, Ocean Boulevard.
Graham and Beverley Easton of West Yorkshire, England, say summer on Siesta Key is more sublime than anywhere they've vacationed in Europe. "We've been to Spain, France, Portugal, but Siesta Key is our true paradise," said Mr. Easton, whose family spent three weeks in August at the Sandbox on the Beach for the 10th consecutive year. "We're taking two other families with us, and we can't wait to see their reaction. You walk into the apartment and open the back door to the beach, and it's the most amazing 'Wow' factor you've ever experienced. Everyone is completely blown away."
The Eastons start their days at 5:30 a.m. with a cup of coffee and a long walk down the beach. Their two teenage daughters build elaborate sand sculptures, swim and watch dolphins play in the surf, almost close enough to touch.
"We walk into the village and shop at the great boutiques, grab a cold beer or a daiquiri, then go back and barbeque dinner out on the grill," Mr. Easton said. "And everyone oohs and ahhs as the sun sets: a huge orange globe slipping into the water."
There are several new luxury resorts, including the $100 million Hyatt Siesta Key Beach Residence Club, which opened in June, offering time-share units that cost from $140,000 to $695,000.
But there are also accommodations across the street from the beach that are available for a comparable song in summer. The Ringling Beach House, for example, a pink stucco building with Old Florida charm, has rooms starting at $120 a night, and all have fully-equipped kitchens, linens and towels, air conditioning, TV, and access to barbeque grills and three small pools.
Dining choices are varied, with an emphasis on flip-flop casual: there are tapas bars and tiki bars, raw bars and crab shacks. The Daiquiri Deck, which used to be a speakeasy, offers 18 daiquiri flavors. And though it's far from New England, Captain Curt's Crab & Oyster Bar won the annual Great Chowder Cook-Off in Newport, R.I., in 2007.
There is more sophisticated, waterfront dining at Ophelia's on the Bay, a top pick in Zagat's, with dishes like Norwegian salmon with mango-honey barbeque sauce and ginger-nectarine salsa, or yellowfin tuna with grilled watermelon and kimchee-spiced aoli.
The most hopping spot on the island is the public beach pavilion, famous for its Psychedelic Superman ice cream (vanilla with bright food-colored stripes). People of all ages walk around to reggae music, licking melting cones; some stop under the large straw-roofed pavilion to get temporary tattoos or their hair braided in Bo Derek cornrows.
"You get a lot more bang for your buck in the summer, and there are no crowds, no hustle bustle," Ms. Guckenberger said from her home in Indiana. "We just got back, and we're still laughing with all the memories of the little ones doing face plants in the sand, like they couldn't get enough of it."
IF YOU GO
WHAT TO DO
Visitor information from the local chamber of commerce is at siestakeychamber.com. Another source of information is simplysiestakey.com.
WHERE TO STAY
A source for hotels and accommodations on Siesta Key is siestakeyguide.com/hotels.asp.
Sandbox on the Beach, 108 Beach Road; (941) 346-0141, sandboxonthebeach.com. Summer rates are $167 to $465 a night (10 percent off on weekly stays).
Turtle Beach Resort, 9049 Midnight Pass Road; (941) 349-4554, turtlebeachresort.com. Summer and fall rates range from $175 to $365 a night.
Tropical Beach Resorts (tropicalbeachresorts.com) are three highly rated hotels that cater to families, singles or couples. The Tropical Sun Beach Resort (941-349-2442) was named the best family resort on Siesta Key by the Discovery Travel Channel; Tropical Shores Beach Resort (941-349-3330) is suited for singles, couples or families. The Sara Sea Beach Resort (941-349-3244) opened last October and is especially suited for couples. Summer rates for all three resorts range from $59 to $269 a night.
Ringling Beach House, 523 Beach Road; (941) 349-1236, siestakeysuites.com. Summer rates are $120 to $242 a night.
Siesta Sands Beach Resort, 1001 Point of Rocks Road; (800) 331-7293, floridarent.com. Summer and fall rates for the three-night minimum range from $255 to $870.
Hyatt Siesta Key Beach Residence Club, 915 Seaside Drive, (888) 280-4928, hyattsiestakeybeach.com; time-share units range from $135,700 to $345,000.
WHERE TO EAT
A source for restaurants is siestakeyguide.com/restaurants.asp.
Gilligan's Island Bar & Grill, 5253 Ocean Boulevard; (941) 346-8122, gilligansislandbar.com.
Daiquiri Deck, 5250 Ocean Boulevard; (941) 349-8697, daiquirideck.com.
Captain Curt's Crab & Oyster Bar, 1200 Old Stickney Point Road; (941) 349-3885, captaincurts.com.
Ophelia's on the Bay, 9105 Midnight Pass Road; (941) 349-2212, opheliasonthebay.net.
Sunrise Concession Stand at Siesta Key Public Beach, 948 Beach Road; (941) 312-0770.