Sarasota vs. Naples
Posted by Marc Rasmussen on Wednesday, September 5, 2012 at 11:18 AM
By Marc Rasmussen / September 5, 2012
17 Comments
A few weeks ago I headed down to Naples, Florida to check it out. Home buyers that contact us will often look in Sarasota as well as Naples for retiring or purchasing a vacation home. We lose buyers to that area and they lose buyers to Sarasota. Naturally, since I sell here my first instinct is to say, "Sarasota is Better!" However I will try to objectively compare the two areas.
A friend of mine, Tim Ryan of NaplesGuru.com, recently opened his own real estate brokerage so I went down there with Jason Painter to see his new offices. He was nice enough to show me around Naples like I was a potential home buyer. If you are thinking of buying in that area I highly recommend Tim. You can find him at NaplesGuru.com or call his office at 239.963.4070.
Demographics of Sarasota & Naples
Sarasota and Collier counties are large. They incorporate many towns. For example, North Port is part of Sarasota county but is roughly 35 miles away from downtown Sarasota. For this reason, I used the city demographics instead of the county demographics. The data below comes from Census.gov.
| | | | | |
| --- | --- | --- | --- | --- |
| | | Sarasota | | Naples |
| County Population, 2010 (Sarasota & Collier) | | 379,448 | | 321,520 |
| Population, 2010 | | 51,917 | | 19,939 |
| Persons under 5 years, percent, 2010 | | 5.2% | | 2.1% |
| Persons under 18 years, percent, 2010 | | 16.8% | | 10.4% |
| Persons 65 years and over, percent, 2010 | | 22.4% | | 48.4% |
| Housing units, 2010 | | 29,151 | | 17,753 |
| Median value of owner-occupied housing units, 2006-2010 | | $227,500 | | $845,100 |
| Median household income 2006-2010 | | $40,183 | | $75,836 |
| Land area in square miles, 2010 | | 14.66 | | 12.31 |
City of Sarasota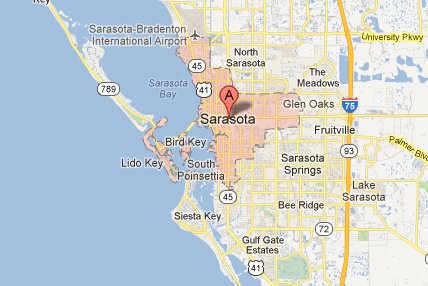 City of Naples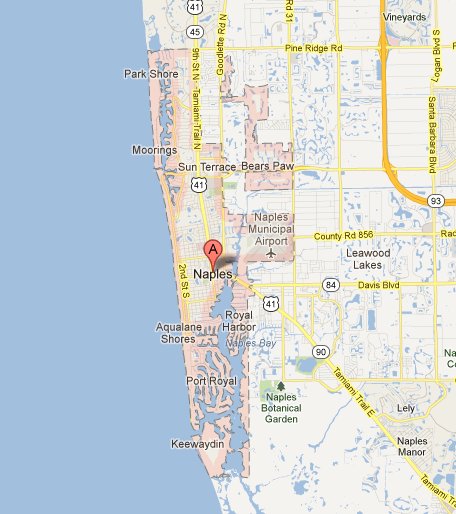 Median Home Price
There are some noticeable differences here. In Naples the median value of owner occupied housing is $845,100, yet only $227,500 in Sarasota. You might interpret this a few ways:
The city of Sarasota offers a fantastic value when compared to Naples.
There are more luxury properties in the city of Naples raising the median home price or fewer lower priced properties.
There are fewer luxury properties in the city of Sarasota lowering the median home price or more lower priced properties.
Older Population in Naples?
I often hear the joke, "Old people live in Sarasota and their parents live in Naples."
As you can see above, 48.4% of the population Naples is above 65 years old while only 22.4% of people in the city of Sarasota are over the age of 65. Maybe the joke is accurate?
Higher Household Income in Naples
The median household income in Sarasota is $40,183 which is far less than Naples at $75,836. This makes sense as there are either a larger concentration of luxury properties or fewer lower end homes.
Density
If you drive around Naples you will notice that there is no downtown district. You won't see any high rise office or condo buildings. 5th Avenue in Naples seems to be the epicenter of the town. I must say that it is really nice. It is very posh and upscale. There are a variety of nice places to shop and eat. It reminds me of St. Armands Circle but perhaps with fewer touristy gift shops.
The population density is much lower in the Naples. In roughly the same land area Sarasota has almost 52,000 people yet Naples only has only about 20,000 people. I did not see any tall condo buildings (1350 Main, Plaza at Five Point, Marina Tower) in the downtown area of Naples.
If you prefer a downtown area with office and condo high rises you might lean towards Sarasota. If you prefer low density, small buildings then perhaps Naples would be better for you.
Weather
Naples is further south than Sarasota so you would expect it to be a bit warmer. It is hot in both areas in the summer. Some people prefer Naples over Sarasota because of the warmer winter weather. Below is a temperature comparison between the two areas. I found it at weather.com.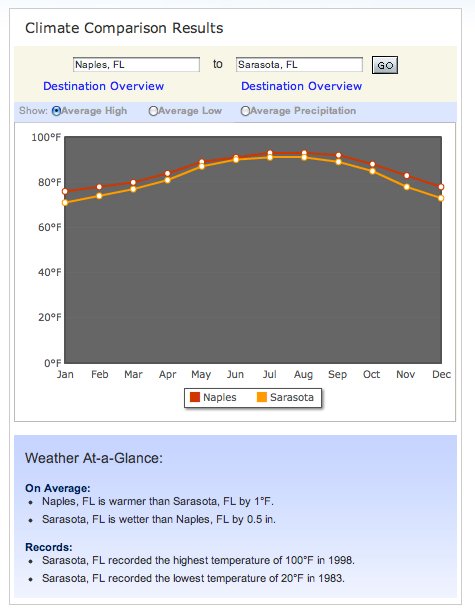 As expected, Naples is warmer than Sarasota. As far as the water temperature goes most would agree that it is probably too cold to get in the water in the winter time in both Naples and Sarasota.
Average Temperatures in Winter
| | | | | |
| --- | --- | --- | --- | --- |
| | | Sarasota | | Naples |
| December | | 73 | | 78 |
| January | | 71 | | 76 |
| February | | 74 | | 78 |
| March | | 77 | | 80 |
| April | | 81 | | 84 |
Beaches
I did get to check out one of the beaches while I was in Naples. We went to the Naples Pier and walked out to see the water and sand. The sand reminded me a bit like Lido Key or Longboat Key. It was very nice and the beaches were pleasant. However, the sand was not the quality of Siesta Key. The water looked cloudier than the waters around Sarasota. It did not have the clarity that you see at the Sarasota beaches. However, perhaps it was just a rough day. I will have to check it out the next time I go down there.
Waterfront Living
One noticeable difference between Sarasota and Naples was the amount of waterfront properties. See the map of Naples below.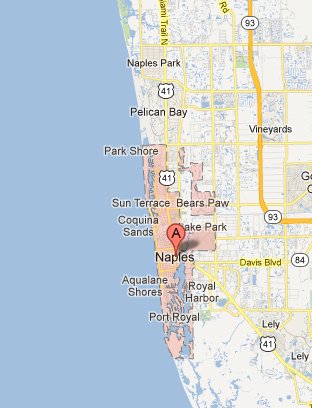 Most of the waterfront properties are either on the beach or found in Port Royal, Park Shore or the Moorings (I am going by the map here so I might not be 100% accurate). There are some amazing beachfront estates in Naples. I don't know for sure but I think there are probably more beachfront homes in Naples. Except for Casey Key most of the barrier islands around Sarasota have condos lining the beach.
When I was in Naples I did not see many "WOW" water views. Sarasota seems to offer more of that. When you drive over the John Ringling Bridge and throughout other parts of town you often catch a magnificent water view that reminds of the beauty of Florida.
Compare the map of Sarasota below to Naples. Notice how much more bay front there is in Sarasota.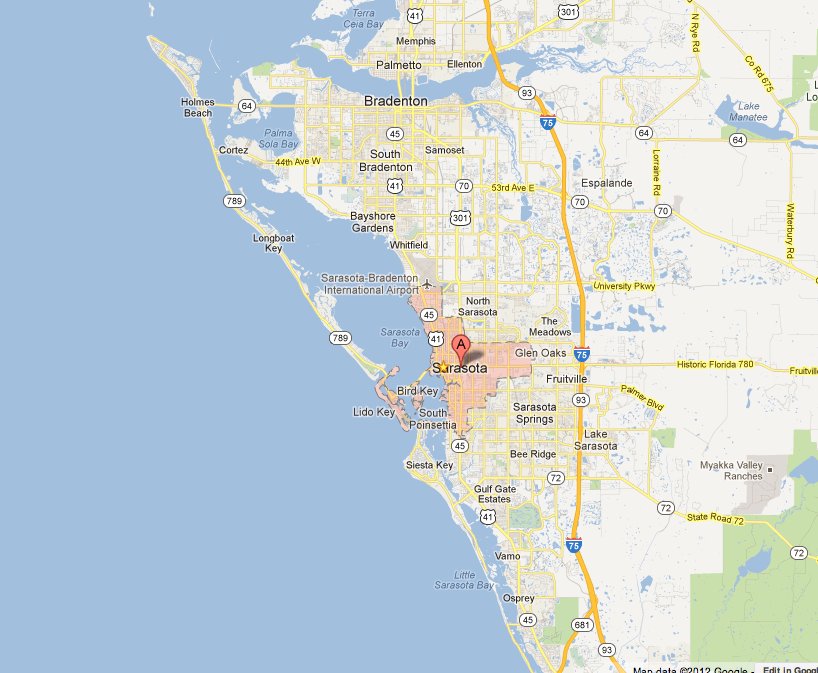 If you want water views it appears that Sarasota has the edge over Naples. You can find a fabulous water view from the mainland of Sarasota, Osprey, Nokomis as well as the barrier islands like Bird Key, Lido Key, Casey Key, Longboat Key and Siesta Key. You can find them from both condos and homes. That "WOW" water view seems to come at a higher price in Naples since there is less of it.
Real Estate Prices
The average and median home prices in Naples has always been more expensive than Sarasota. I don't know Naples so it is a bit difficult to compare apples to apples. I used Tim Ryan's property search for the following information:
Single Family Homes
What is noticeable here is that Naples has roughly twice as many homes for sale with asking prices of $5 million or more. We have about the same amount of homes for sale between $2 million and $5 million. Sarasota has more than twice as many homes for sale under $1 million than Naples. The higher number of luxury homes in conjunction with fewer lower priced homes gives Naples a much higher average and median home price.
Condominiums
It is interesting to see that Naples has over twice as many condos for sale between the $1million and $2 million price range. Naples also has 811 more condos for sale priced under $1 million. I am actually surprised to see this as it seemed like there were more condos in Sarasota. However, I noticed that many of the beachfront condos in Naples are much larger buildings with higher floors and more units. I will double check the accuracy of these numbers.
Arts & Culture
I have a hunch that Sarasota probably has a leg up in the arts and culture department. This area has often been called the 'Cultural Capital of Florida." You can see the wide array of cultural venues that Sarasota has to offer here - SarasotaArts.org. A few of them include:
Asolo Theatre
Burns Court Cinema
Florida Studio Theatre
Golden Apple Dinner Theatre
Ringling School of Art & Design
Van Wezel Performing Arts Center
Sarasota Film Festival
The Players Theatre
The Jazz Club of Sarasota
Sarasota Orchestra
Sarasota Ballet
Sarasota Opera House
After doing a few Google searches I can't seem to find much in the way of Naples Arts and Culture. We did drive by The Philharmonic Center for the Arts (The Phil in Naples) which was a gorgeous facility.
If this important to you I suggest asking someone much more involved in that world for an unbiased comparison of both cities.
Conclusions
Honestly, both Sarasota and Naples are really nice places to live and own. I don't think you can go wrong in either area. It is simply a matter of personal preference.
It is good to have choices.