Sarasota vs Ft. Myers
Posted by Marc Rasmussen on Friday, August 20, 2021 at 9:24 AM
By Marc Rasmussen / August 20, 2021
Comment
arasota vs Ft. Myers
When buyers come searching for property on the Southwest Coast of Florida they already know they can expect crystal turquoise waters with beautiful sandy beaches and stunning sunsets. Along side these Gulf coast "standard features", the research begins in finding the perfect waterfront city to call home. Another big Gulf coast city we receive lots of inquiries about is Ft. Myers. As our other blog posts have showcased, Sarasota vs St. Pete and Sarasota vs Naples, each Gulf coast city offers something a little different and warrants a bit of investigating to determine which city is right for you.
Demographics of Sarasota & St. Pete
add text here
| | | | |
| --- | --- | --- | --- |
| | | Sarasota City(Sarasota county) | Ft. Myers City (Lee county) |
| 2018 City Population Estimate | | 57,738 | 82,254 |
| 2018 County Population Estimate | | 426,718 | 754,610 |
| Mar. 2016 cost of living index for county (U.S. average is 100) | | 96.9 | 94.3 |
| White Non-Hispanic | | 83.3% | 67.5% |
| Black Non-Hispanic | | 4.8% | 9.1% |
| Hispanic or Latino | | 9.1% | 21.2% |
| Median Resident Age | | 47.4 | 44.7 |
| Median value of owner-occupied housing units, 2013-2017 | | $215,300 | $190,200 |
| Median household income 2013-2017 | | $55,236 | $52,052 |
| Land area in square miles (city) | | 14.9 | 31.8 |
| Percentage of persons living in poverty | | 9.2% | 11.8% |
Sources: U.S. Census Bureau, City-Data.com
Map
Sarasota County
Sarasota City Limits
Lee County
Ft Myers
Weather
As you might suspect, weather patterns in Sarasota and Ft. Myers are pretty similar to one another. Both historically share January as the coldest month while Ft. Myers experiences it's hottest month in June and Sarasota's peak heat month is July. See the average temps, precipitation and record numbers in the charts below, provided by Weather.com.
Sarasota Weather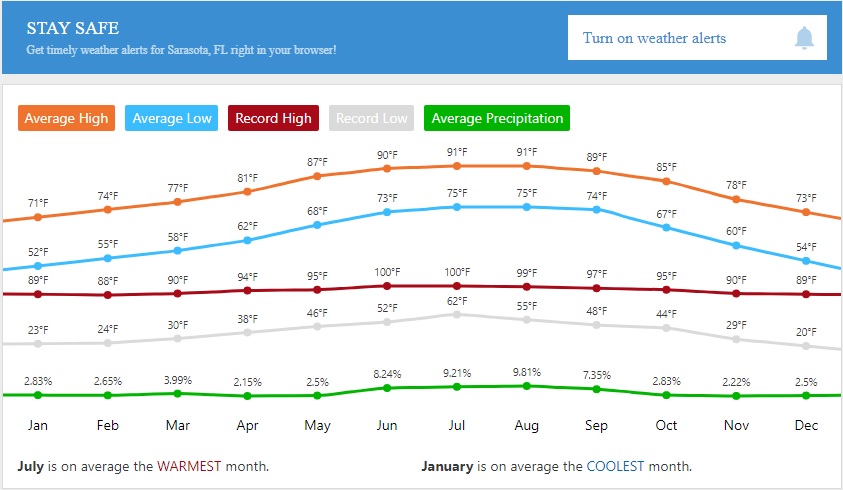 Ft. Myers Weather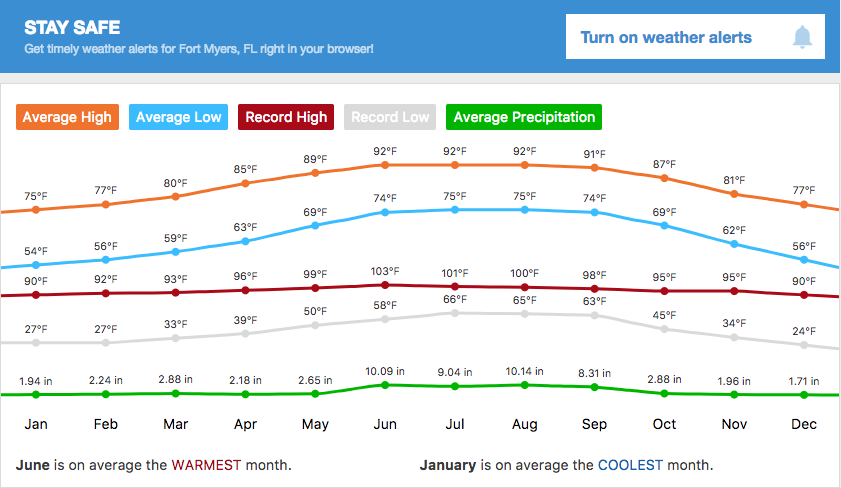 Sarasota County Properties
Below are a few charts representing the average sale price of all properties in Sarasota county as well as the median sale price and inventory of active listings. These graphs do a great job showcasing Sarasota County's steady growth over the past 10 years. Average sold prices have gradually worked their way up, the lowest recorded average sale price over this time period was $192,316 in September 2010. Since then the peak average sale price blossomed to $437,063 in November 2017. April 2019 had an average sale price of $382,717 which is pretty consistent from the same time last year when April 2018 reported an average sale price of $381,708. Average sale prices across the state for April 2019 range from $49,500 to $678,166 and Sarasota County falls comfortably in the middle.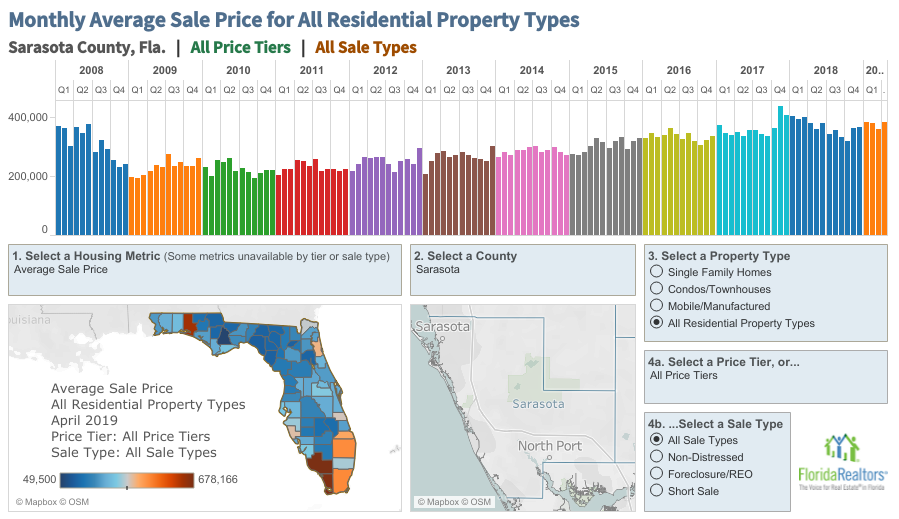 Inventory of active listings has fallen significantly since 2008, the highest recorded level of active inventory showcased in this chart was February 2008 with 11,633 listings on the market. From this point the decline in inventory continued until reaching 2,985 active listings in August 2015. Active inventory has been building from that point, this past February sarasota county recorded 5,925 active listings which is the most on market listings since January 2012 (6,087). April 2019 recorded 5,502 active listings, a 600 unit jump from April 2018 (4,888). Throughout the state, Sarasota County's active inventory is still on the lower end the highest recorded inventory in April 2019 was 23,036 listings in Miami-Dade County. Lee County's active inventory nearly doubles Sarasota's with a reported 10,735 listings.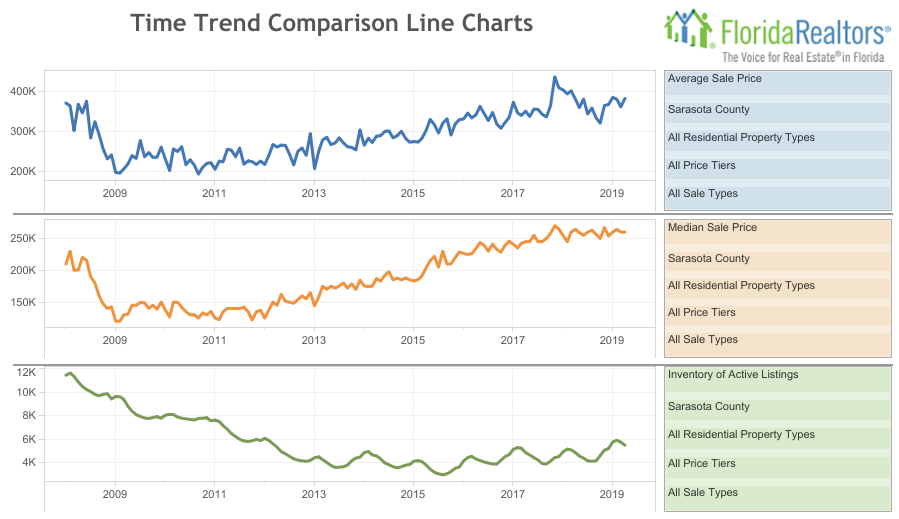 Lee County Properties
Below is a chart representing the average price of all properties for sale and sold in Lee county. Unlike Sarasota, Lee County appears to be all over the chart and a bit harder to nail down. Average active prices have experienced significant growth over the year, August 2016 had an average of $578,000 and one year later has worked its way up to $758,000 with it's peak at $835,000 in June 2017. Average sale prices are a bit scattered and fluctuate pretty substantially from month to month. The largest average differentiation happened over the summer, average sales price peaked at $882,000 in May and drastically dropped in July to $239,000.