Sarasota to Host World Rowing Championships
Posted by Marc Rasmussen on Wednesday, September 4, 2013 at 9:55:40 AM
By Marc Rasmussen / September 4, 2013
Comment
Athletes from more than 70 countries will converge on the Suncoast in 2017, when Sarasota hosts the World Rowing Championships at Nathan Benderson Park.
The announcement was made official in Seoul, South Korea Monday. It will be the first time in more than 20 years that the event will be held in the United States.
The 2017 World Rowing Championships are expected to attract more than 1,500 Olympic-caliber athletes from more than 70 countries. The event is a precursor to the Olympic Games and will be broadcast to a worldwide television audience of 130 million people. An estimated 40,000+ spectators are expected to attend the event.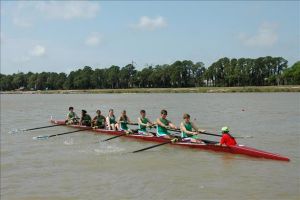 Officials from Sarasota County, Manatee County, Visit Sarasota County, Suncoast Aquatic Nature Center Associates and the United States Rowing Association were present for the official announcement.
According to Sarasota County, more than $40 million in public and private-sector funds have been committed to help transform a former borrow pit into Nathan Benderson Park, making it the premier rowing venue in North America.
FISA officials cited the park's proximity to Interstate 75, Sarasota/Bradenton International Airport and the City of Sarasota, calm waters, and year-round good weather as reasons for choosing Nathan Benderson Park.
Thousands of spectators are expected to flock to area hotels, restaurants and shops -- generating millions of dollars in revenue from sales and bed taxes. "Conservatively, $25 million of economic impact with about 45,000 people expected to come here over a two-week period," says Nicole Rissler with Visit Sarasota County.
In the meantime, construction in and around Benderson Park will continue, with one of the biggest projects being the mall at the University Town Center next to the park; a total investment of about $40 million.
"Our team has been working so intensely on this bid for the past 10 months, to see our dream now realized is an incredible moment. We now have this opportunity to show off our wonderful community and our hospitality to the world," said Virginia Haley, President of Visit Sarasota.