Fishing for the Same Clients
Posted by Marc Rasmussen on Wednesday, August 1, 2012 at 2:47 PM
By Marc Rasmussen / August 1, 2012
4 Comments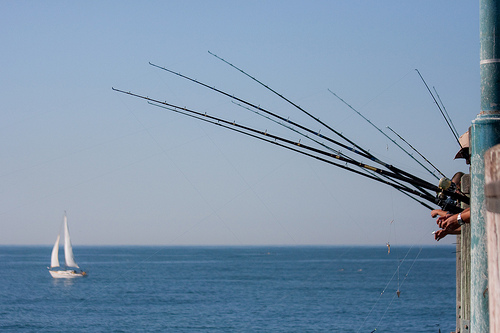 Yesterday, I went deep sea fishing with my Realtor friend Jason Painter of ProgramRealty.com (I highly recommend him for property in Englewood, Venice, Punta Gorda, Port Charlotte and Rotunda Florida real estate). We were about 18 miles out in the Gulf of Mexico fishing for grouper. We were on a really good spot and all of us were reeling in fish left and right. Jason and I were on the same side of the boat and at one point we both hooked into the same fish. We brought the fish in and Jason turned to me and said to me, "This pretty much sums up our real estate career."
Realtors are much like fishermen. Some agents only try to catch the big fish, some only go after fish in certain locations, others go after only certain types of fish, while others just try to catch anything.
When Jason said, "This pretty much sums up our real estate career," he was talking about how we as Realtors are trying to catch the same fish which are buyers and sellers of property. He and I don't really compete because my firm sells in the Sarasota area and he focuses south of us in the Englewood area.
It is a fairly common occurence for two or more Realtors to hook into the same buyer or seller. Afterall, there are a lot of hooks in the water. If you are a seller it is common practice to interview more than one Realtor (but you only hire one). However, many buyers go with the theory that if they hire more than one Realtor (in the same geographic location) that they will have a better chance of finding a home. This is not really true.
MLS
This is the database of properties (mostly residential) that Realtors use to assist their buyers in finding a home and the most powerful marketing tool an agent has to sell a property. Realtor Ingrid Walker has access to the same properties that Realtor Kristy Lochead has. So, it doesn't make any sense to hire both of them to help you find home. If a buyer is a looking for a bayfront home on Bird Key (big fish) Ingrid will be able to show the same homes as Kristy..
One Good Realtor is Enough
One question Jason Painter and I both ask in an initial conversation with a new buyer is, "Are you working with any other Realtors?" We both have been burned in the past by showing a home to a prospective buyer only to find out later that they purchased the home through their Realtor. We also have an obligation to make a reasonable effort to determine whether the prospect is working with another agent (See 16-9 of the Realtor code of ethics. Many agents forget this one).
I absolutely believe the buyers and sellers should interview Realtors prior to starting a relationship. It is pretty easy to bite as there are so many hooks in the water. Here are a few questions you could ask:
Sellers:
How many homes have you sold in the last year? In the last 6 months?
How many listings do you currently have? (Will you be 1 of 1? 1 of 5? 1of 50 listings?)
How will you market my home?
What is your commission?
Am I asking too much for my house?
Buyers:
How many buyers have you represented in the last 6 months? 12 months?
How long have you been selling real estate?
Do you work with a lot of buyers?
How many homes have you sold in my price range?
Do you concentrate on just one area of town or segment of the market?
There is nothing wrong with firing an agent that isn't doing their job well. However, hiring two agents (in the same geographic area) to find you a home is counterproductive in my opinion. Some think that that if they hire two agents that it will motivated them even more to find you a good home. I think the opposite happens. You end up getting a half hearted effort from two agents because one of them is going to end up working for free.
You just need to find one really good agent. There are many of them out there.