Sarasota real estate booms: A timeline
Posted by Marc Rasmussen on Friday, August 20, 2021 at 9:24 AM
By Marc Rasmussen / August 20, 2021
Comment
The Sarasota Herald Tribune wrote an interesting article about Sarasota real estate booms. I pasted it below. Here is the original article.
By Harold Bubil
Real Estate Editor Emeritus
Posted Mar 18, 2018 at 6:33 AM
The city, like the state around it, has proven to be irrepressible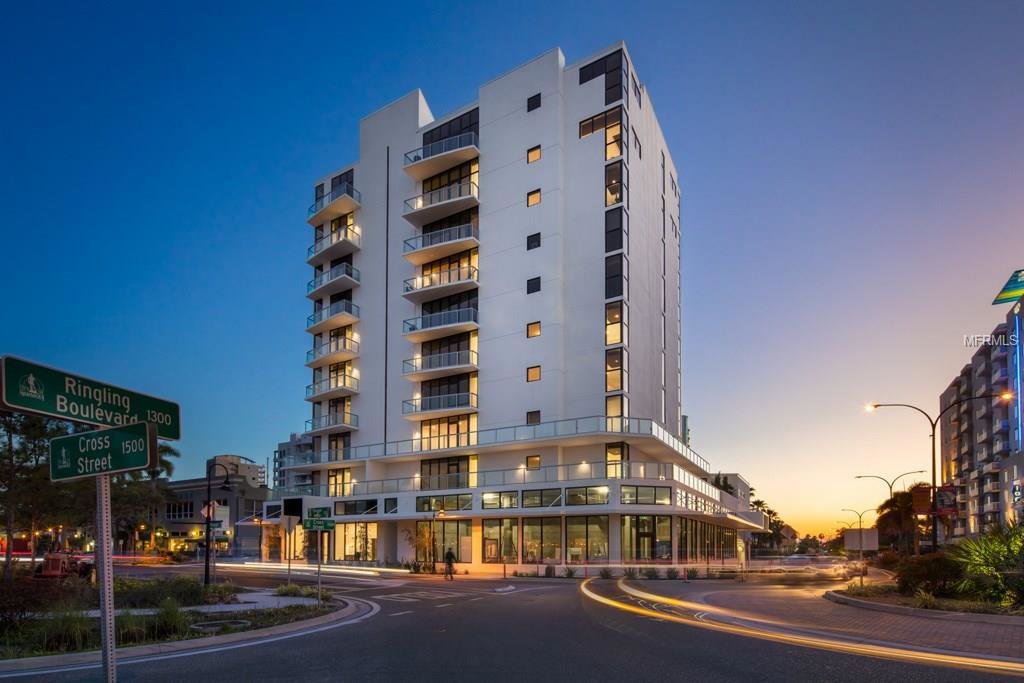 The current real estate boom is historic, but there have been plenty of others. The city, like the state around it, has proven to be irrepressible.
Sarasota is in another real estate boom — just 10 years after the last one, which was epic by historical standards, ended in an historic bust.
Back then, developer/homebuilder Pat Neal, head of Neal Communities, shrugged off the collapse, even as he retooled his company to build less-expensive homes so buyers wouldn't disappear completely.
"I've seen this movie before," he told the Herald-Tribune.
Indeed he had in a career that started in the 1970s. Booms and busts are what Florida real estate is all about.
For newcomers and those who may have forgotten, Sarasota is not in its second boom. There have been a half-dozen or more.
A boom is a period of intense buying, selling and construction, coupled with rising land prices and building costs. In downtown Sarasota, it is seen in redevelopment, as old buildings are torn down and impressive high-rises take their place.
A bust, when the pace of transactions slows and prices level off or fall, almost always follows.
Sarasota's natural state is that of "boom;" that is true in the rest of South Florida as well. In the early 20th century, as historian Jeff LaHurd has noted, the newspaper advertisements proclaimed, "Sarasota's growth cannot be stopped." That has proven to be the case, so far.
"Sarasota is all about selling houses," Realtor Martie Lieberman told the Herald-Tribune in 2003, as another boom was ramping up. "It always has been."
VueEven from the start of the Settlement Era, the community's developers, promoters and boosters have catered to the rich. The land itself was promoted to the Scottish Ormiston Colony in 1885 as "the most rich and beautiful," ideal for the would-be gentleman farmers who sold everything back home and took the families on a two-month overseas journey into South Florida. Until that time, it was considered too wild, too lawless and too swampy to even care about.
The developer, Sir John Gillespie, could be excused if he made no mention of the vigilante murder of Sarasota postmaster Charles Abbe a few months earlier. When the Scots arrived in December to find unpaved streets, infertile sandy soil and scant housing, they suspected they'd been had. When freezing temperatures set in a few weeks later, they were sure of it. Most of the families went back to Scotland.
But a few stayed, and Gillespie was determined to make good on the promises his Florida Mortgage & Investment Co. had made. He sent his son, John Hamilton Gillespie, 34, to Sarasota to start making good on the original promises.
J.H. Gillespie's first hotel, the DeSoto, was "a place for those of wealth and influence." It became the Belle Haven Inn, was sold for $35,000 in 1913 and again for $500,000 during the boom in 1925 — for land value. It was torn down to make way for a bank.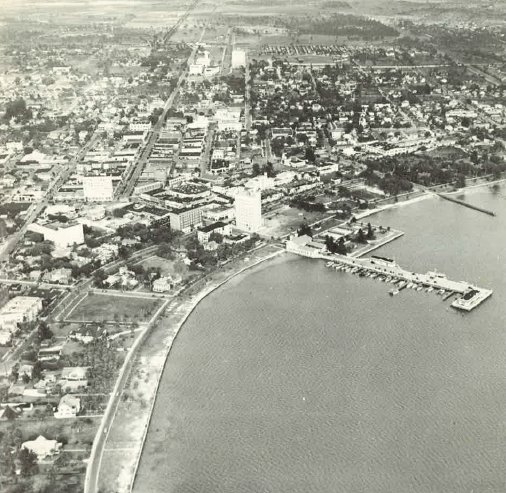 Gillespie also built stores and houses, laid out some streets and made Sarasota a little less of a frontier town. It had "risen" to the stature of a sleepy fishing village. Main Street was booming — but guess what? Within a year, properties went begging, and the bust was on.
In Florida real estate, the distinction of investment vs. speculation has always been blurry, writes respected historian Gary Mormino in his 2005 book, "Land of Sunshine, State of Dreams: A Social History of Modern Florida." Salesmanship, promotion, boosterism and public relations were as much fuel for the real estate engine as easy credit, he wrote.
Mosquito control, screens, air-conditioning, trains and highways (and creative financing) helped it happen. What had been worthless swampland, sandy hills and sandspur-covered barrier islands became "paradise" for winter-weary Northerners.
Mormino points out that there have been three major booms in Florida's history. The first was from 1782 to 1784, when British loyalists fled the new United States for British East Florida, in the northeastern portion of the peninsula. Then there was the boom of the 1920s and the post-World War II boom of the 1950s and '60s.
Boom-bust cycles of varying scales are just part of the landscape in Florida. Here is a timeline of Sarasota's booms:
1886-87 — A mini-boom along Main Street follows the failure of the Scots' Ormiston Colony. Simple wooden houses and shops go up. But when "Bradentown" becomes the new county seat of Manatee County, Sarasota goes into a funk. Col. John Hamilton Gillespie is the leading — perhaps the only — developer. Weeds are growing in his streets, the hotel is empty and land goes begging at $10 per acre.
1900s — At the end of the Settlement Era, land prices soar along Main Street, until the Panic of 1907, which gave rise to the Federal Reserve System. Downtown's central business district begins to take shape. Gillespie's 1890s "Slow and Wobbly" train from Bradenton is replaced in 1903 by the Seaboard Air Line, and, by the 1920s, the Atlantic Coast Line brings its line to town. (Passenger rail service ended in 1971.)
1910 — Lured by an advertisement by landowner and real estate promoter J.H. Lord, Chicago socialite Bertha Palmer arrives by boat with her family, proclaims Sarasota Bay "as beautiful as the bay of Naples" (Italy) and buys tens of thousands of acres south of Sarasota and north of Tampa. Her rich friends follow. Another Chicagoan, Owen Burns, arrives a couple of months after Palmer and buys 75 percent of Sarasota for $35,000. He begins an infrastructure improvement program with paved streets, utilities and seawalls. Sarasota is on the map.
1922-26 — A year after Sarasota County broke off from Manatee, the largely speculative Florida Land Boom brings a wave of development to downtown Sarasota and Venice, and ends in an epic market collapse. The First Bank & Trust at Five Points, the El Vernona Hotel, the Hotel Sarasota, the American National Bank (it went broke two years later and became the Orange Blossom Hotel, then apartments, then condos) and the Terrace Hotel are the first "high-rises" in downtown. Also, Andrew McAnsh's 1922 Mira Mar Hotel with auditorium and apartments and shops, the current Belle Haven, the Frances Carlton Apartments, the Atlantic Coast Line Rail Station, John and Mable Ringling's Ca' d'Zan, the Charles Ringling Mansion, the Sarasota Times building, the County Courthouse, and dozens upon dozens of fine Mediterranean Revival homes are built. Many of these landmarks are still standing.
John Nolen, the leading city planner of the era, revises the layout of downtown before drawing up Venice. Sarasota would look much the same until the mid-1960s. Burns and the Ringlings, John and Charles, dominate the development scene, but the Whitfields and others take the boom out of downtown with new subdivisions. Ringling hires Burns, who owns sand dredges, to help him create Lido and St. Armands keys, as we known them today, from the mangrove Cerol Isles.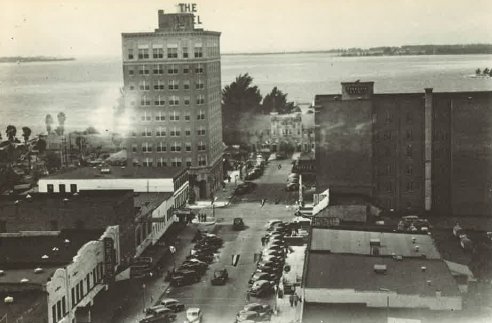 On Longboat Key, John Ringling dreams of a Ritz-Carlton. Its uncompleted shell stands like a ghost until it is torn down in the 1960s.
The Tamiami Trail, of which Main Street was a key link, is completed, bringing countless tourist/buyers to town. The wooden Ringling Causeway takes buyers to John Ringling Estates; Mr. John sells it to the city a year later for $1, after he connects it to then-tiny Bird Key with land dredged from bay bottom. During the Depression, the bridge sits unused and the planks rot.
1930s — The Works Progress Administration employs the unemployed during the Great Depression, leaving behind landmarks that still stand (the Municipal Auditorium) and those that don't (the Lido Casino). The Federal Building also goes up as the U.S. Post Office, serving until the 1960s.
1950s-'60s — Along with the usual wave of retirees, a flood of young families, led by World War II veterans who trained here during the war, moves to Florida to create a bona fide boom fueled by what are now known as "end-users." Developers, including the Paver family, create such solid, yet modest, developments as Paver Park and Kensington Park, but others carve out huge "land scam" schemes in Southwest Florida, from Port Charlotte south to Lehigh Acres in Lee County and Golden Gate Estates in Collier. When the developers discover they can make more money building houses than selling lots at "$10 down and $10 a month," they do just that.
National Geographic names nearly deserted Siesta Beach among the four most beautiful strands in the world. Sarasota becomes known as an artists' and writers' colony and a mecca of modern architecture. Among the cultural stars are artists Hilton Leech, Thornton Utz and Syd Solomon; writers John D. MacDonald and MacKinlay Kantor; architects Ralph Twitchell, Paul Rudolph and Victor Lundy; musician Rudy Bundy; and dozens of circus performers, including famed clown Emmett Kelly.
At the same time, downtown transforms. In a move that is still controversial, U.S. 41 is routed along the bayfront on dredged-and-filled land, leading to the closure of many gas stations on Main Street. Condominiums become desirable options for retiring seniors, and "condomania" becomes part of the lexicon as, between 1964 and '68, a handful of high-rises go up on Gulf Stream Avenue. Along with them come more high-rise office buildings, mostly banks, and modernist buildings of the Sarasota School of Architecture. Arvida's 1959 purchase of the Ringling Estate's 2,200-acre waterfront holdings leads to the development of Bird Key, Country Club Shores, Longboat Key Club and many condos on Longboat, with designs by architect Edward J. "Tim" Seibert.
Irving Z. Mann's first condo, Sarasota Harbour, is built, modestly, at just three stories in 1963. Across John Ringling Parkway, 24-story Plymouth Harbor goes up in 1966, becoming the tallest building in town for decades.
The big developers are Rolland King and Frank Smith at South Gate (1955) — the Lakewood Ranch of its day — and Gulf Gate, while Ruth Richmond builds hundreds of homes that have now become vintage treasures.
1970s — A bust is tripped off by the Arab oil embargo following the Arab-Israeli Yom Kippur War and a spike in America's prime interest rate. The same year that the Watergate scandal takes down President Nixon, the One Watergate condominium grabs headlines in Sarasota and is joined by new condos on Sunset Point. A thousand condominium projects fail in Dade and Broward counties. "People got drunk on Florida," says one observer, quoted by historian Mormino.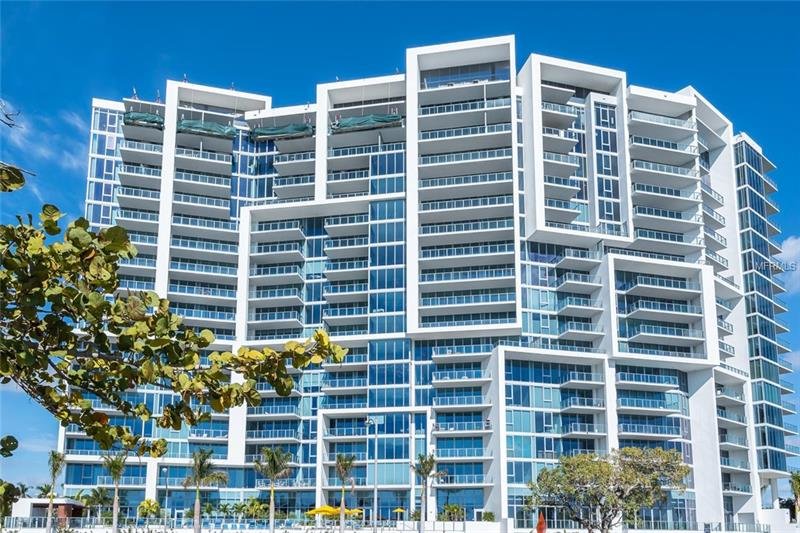 But the market soon recovers. "Florida is not overbuilt, it's undersold," says one developer, quoted in Mormino's book. Disney World brings a flood of tourists and retirees, and a bigger boom ensues.
1982 — Sarasota's downtown condo market overheats after construction of Seibert's Bay Plaza and 888 Boulevard of the Arts. Mortgage interest rates approaching 20 percent bring on another recession. But it is not all bad news. Robert A. Morris builds a development machine, with The Landings among his products, and more subdivisions go up around Sarasota, some of them on land that is known for flooding.
Late 1980s-early 1990s — A nationwide savings and loan crisis leads to a bust in the commercial real estate sector. Construction cranes sit idle, storefronts are boarded up, and some people even leave the state — unprecedented since the 1926 bust. But Florida's forgiving statutes regarding debt lead to a bankruptcy boom, as the wealthy head south to protect their assets in expensive homes. A residential real estate recession takes hold for a year or two.
1990s-2001 — Following Hurricane Andrew in 1992, insurance money and government assistance leads to a building boom in South Florida, and it spreads to the rest of the state. Luxury development takes off with Sarabande, Tessera, Marina Tower and the Ritz-Carlton hotel with condos, and, in a separate building, the Tower Residences (2003). On the barrier islands, the keyword in condo marketing is "upscale" and "luxury." The rich display an appetite for second and third homes. Gated communities are the rage, as are the master-planned communities of Lakewood Ranch, Palmer Ranch, along with dozens of others throughout the state.
2002-2012 — A speculative boom of legendary scale, brought on by speculation, "flipping" and way-too-easy credit, is followed by the Great Recession, which, in Florida, is in fact a real estate depression. Prices fall, sales stop, tradesmen leave. Before the carnage, downtown is reshaped by 100 Central, Plaza at Five Points, 1350 Main and the Golden Gate Point luxury condos.
2014-? — The current real estate boom again reshapes downtown Sarasota and its surrounding neighborhoods. Condo "pads" are in short supply, so old projects are rehabilitated and the few empty lots are filled with condos, hotels and apartment buildings. Working-class Laurel Park and Gillespie Park, and the middle-class "Flower Streets," are redeveloped — out with the ranch houses, in with the mini-mansions, priced at a half-million dollars and up.
Indeed, Sarasota's growth cannot be stopped — at least until the next bust.