Sarasota Neighborhoods with the Most Expensive Homes
Posted by Marc Rasmussen on Wednesday, March 13, 2019 at 11:08 AM
By Marc Rasmussen / March 13, 2019
Comment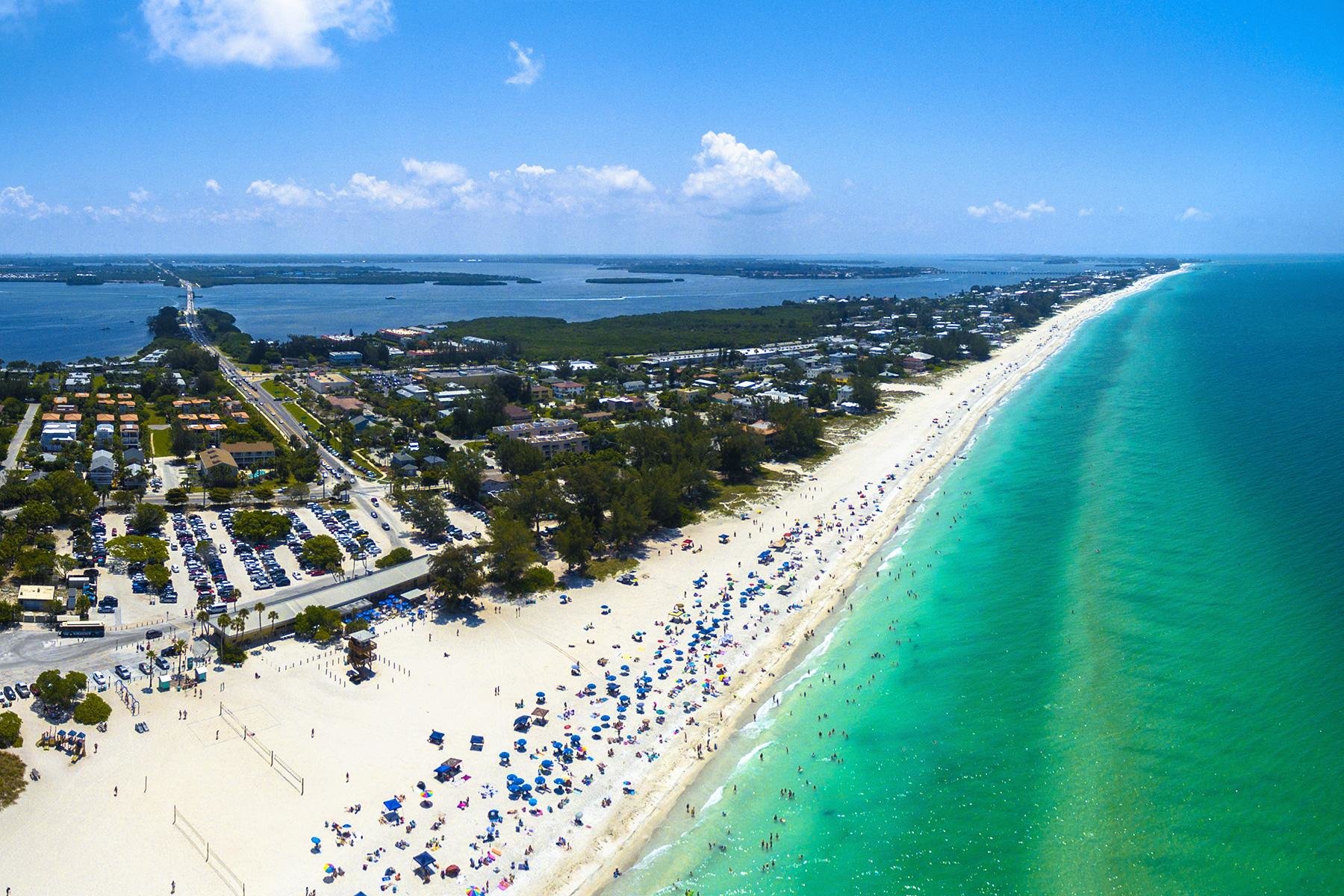 I was originally going to title this post "The 10 Most Expensive Neighborhoods in Sarasota". But, that got a little too complicated for various reasons. So, I simply searched for single family homes with the highest market value determined by Sarasota county and listed some of their neighborhoods below. It doesn't seem fair to only showcase 10 neighborhoods since there are 100's of fabulous and expensive neighborhoods in Sarasota. Take a tour around the Sarasota bay by boat and you will see exactly what I mean.
This is meant to be more of a fun article. So, I wouldn't use this information for valuation purposes or anything too technical.
It is also important to note that the 10 communities below are in no particular order.
Lido Shores
The next time you are on St. Armands Circle or if you are heading to Longboat Key or City Island take a little detour to the stunning homes found around Lido Shores. This community sits on the north end of Lido Key and is home to some of the most amazing properties you will find in Sarasota. If are a fan of contemporary style homes and the Sarasota School of Architecture then you should definitely check out Lido Shores.
---
Casey Key
Casey Key is more of an island than a neighborhood but it had to be added to this list because of the amazing homes found here. Casey Key is a short 8-miles of breathtaking shoreline, white sandy beaches and subtropical properties. The area offers welcomed seclusion from cluttered commercial cities, and it is less than 300 yards at its largest West to East width. At the North end of Casey Key is Sarasota Bay's Siesta Key area. However, Casey Key extends into the Venice Beach area on its South end.
---
Bird Key
Located between downtown Sarasota and Lido Key is the exclusive waterfront neighborhood of Bird Key. There are just over 500 homes on Bird Key. This community is just a few minutes away from the attractions and excitement of Downtown Sarasota, the beaches of Lido Key and Longboat Key, as well as the popular destination spot of St. Armands Circle.
Bird Key properties are made up of bay front homes, canal homes and garden (non-waterfront) homes. This is one of the most sought after areas in Sarasota, Florida. You will notice that many of the homes on Bird Key are newer. The island was developed in the 1950's and 1960's yet the area is in such high demand that many of the older Bird Key homes have been torn down to make way for newer ones.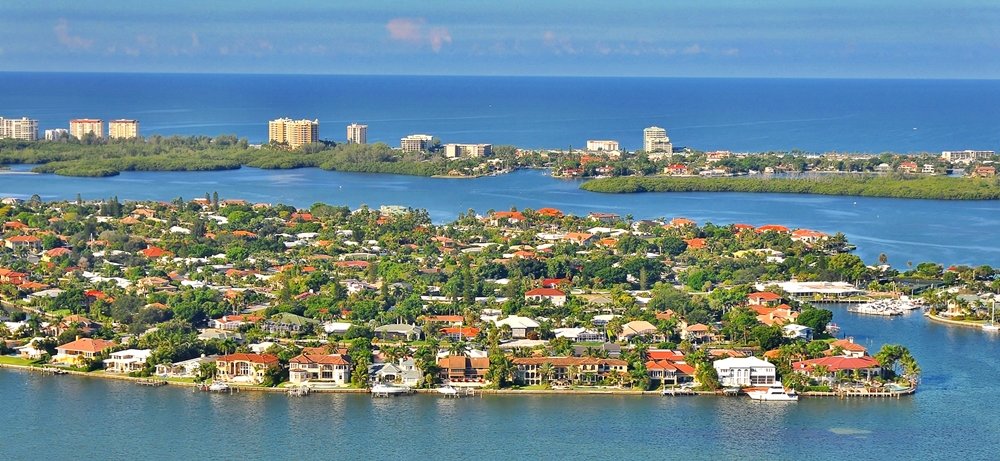 ---
Harbor Acres
One of Sarasota Bay's most luxurious neighborhoods is Harbor Acres whose desirable waterfront real estate is located on the mainland shores just south of Downtown Sarasota. It is one of Sarasota's premiere West of Trail neighborhoods, where elegant old-Florida style homes sit contentedly next to very modern showplaces.
With a beautifully landscaped atmosphere, the 166 Harbor Acres home sites with their palm lined streets send residents back in time to the old Sarasota Florida neighborhoods. Some of Florida's best architecture is here offering stunning bay-front or canal-front views, making Harbor Acres a boater's paradise. The bay front homes in this real estate market have luxurious, panoramic views of the Ringling Bridge as well as Bird Key.
---
Indian Beach/Sapphire Shores
Located in the desirable Museum District of North Sarasota, the neighborhood of Indian Beach defines eclectic home styles. From quaint cottages to multi-million-dollar bayfront estates, homes in the Indian Beach real estate market range from some of Sarasota's most historic to most modern masterpieces. In addition to the lovely homes for sale, the lush, mature landscapes of colorful native plants nestling beneath canopies of 100 year-old banyan trees are exactly what buyers would expect in one of Sarasota's oldest neighborhoods.
---
Oyster Bay Estates
Oyster Bay Estates is an eclectic community of diverse homes sitting on large lots with mature and lush landscaping. Here you can find anything from an older ranch style home, a modern structure designed with Sarasota School of Architecture themes, Key West style as well as Spanish-Mediterranean designs. The feeling of 'Old Sarasota' from the 1910's and 1920's shines through in Oyster Bay Estates. Many of the original homes for sale from this community have been torn down to make room for condominium properties, however this neighborhood stays true to it's historical roots. The tropical landscaping and beautiful waterfront estates give charm to this historic Sarasota development.
Oyster Bay Estates is located West of the Trail and sits on the Sarasota bay. Some of the streets include North and South Lakeshore Drive, Camino Real and Field Road. This is an exclusive community with a fabulous location. Boaters will appreciate deep canals and stunning views of the bay.
---
Regent Court
If you have driving on the south end of Longboat Key you will notice a row of very large homes on the beach beyond the golf courses of the Longboat Key Club. These 8 homes are located within the Regent Court neighborhood. Some of the most expensive properties in Sarasota are located here. Regent Court boasts large parcels and very large waterfront mansions. Currently, there are 2 homes for sale, 825 Longboat Club Road - $15,900,000 and 845 Longboat Club Road - $22,500,000.
---
St. Armands Circle
Circus magnate John Ringling purchased the property that is today's St. Armands Key in 1917. His vision for this unique planned development included a shopping area laid out in a circle, European-style, in addition to residential homes. Ringling Circus elephants were used to haul in the timbers to build the bridge that would connect the area to the mainland.
St. Armands Circle offers a wide array of homes with diverse architectural styles. I think residents choose to live here primarily because they have so much within footsteps. They can hit the beach, do some shopping for clothes, artwork or chachkies and enjoy delicious meals and/or drinks with friends, all without having to get in their vehicle.
---
Sanderling Club
Some of the finest homes on Siesta Key are those found in The Sanderling Club. This exclusive neighborhood features properties that give the island it's charm and appeal. Sanderling Club is located south of the Stickney Point Bridge right on the Gulf of Mexico. If you prefer a gated community, Sanderling Club's 24-hour gated security is the only community that features this on Siesta Key.
The beautiful homes in The Sanderling Club were built on massive, estate sized lots that offer lavish landscapes with exotic trees and rare tropical foliage. The majority of the residences in this community are prices between $1 million to $20 million. The south end of Siesta Key (just behind Turtle Beach) provides palatial beach side residences for Sanderling Club communities. The convenience here is a big draw for those who want a beachfront location but may not want to be as far south as Casey Key.
---
Bay Island
Bay Island is made up of 169 single family homes that are located on the north end of Siesta Key. It is an island community completely surrounded by water, affording beautiful waterfront home options for potential real estate investors. Houses located in the northern shore of Bay Island enjoy the most stunning views of the Sarasota Bay as well as the city skyline. On top of these amazing backdrops, residents of Siesta Key Bay Island have the Ringling Bridge to admire, which stretches from downtown Sarasota to Bird Key.
---
Lighthouse Point
Lighthouse Point is located on the south end of Longboat Key. You will notice these multi-million dollar homes on the water as you drive over New Pass on to Longboat Key from Lido Key or drive a boat through New Pass. This small gated enclave is highly sought after. The homes are convenient to golf, tennis, beach, bay, St. Armands Circle and downtown Sarasota. The great thing about many of these homes is that you have easy access to Longboat Key beach as well as a dock to store your boat. It is a small community so not many homes are usually for sale.
Again, the above neighborhoods are just the tip of the iceberg in terms of luxury homes in Sarasota. There are literally 100s of amazing communities in the Sarasota/Bradenton area. Give us a call at 941.822.0708 or contact us here if we can help you buy or sell a home.

Marc Rasmussen
Broker/Owner of DWELL Real Estate