Sarasota Lifestyle - Where to Exercise
Posted by Marc Rasmussen on Tuesday, October 23, 2012 at 9:43 PM
By Marc Rasmussen / October 23, 2012
1 Comment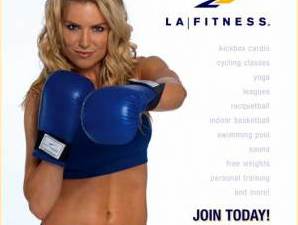 After examining the number of quality fitness venues in Florida, one could come to the conclusion that many Floridians consider physical fitness a prerequisite for state residency. Traditional gyms as well as themed fitness centers have flourished in the sunshine state. Even the otherwise laid back, sunny city of Sarasota takes a serious view of fitness and provides varied activities to suit most fitness enthusiasts.

Experienced and new athletes alike enjoy the convenience of a traditional fitness center. These venues offer an easy way for people to establish and maintain a fitness regimen. Fitness center members are able to progress through their workouts at their own pace once the use of fitness equipment is mastered. Here is a list of some popular fitness centers in Sarasota, Florida.
Local Fitness Centers
LA Fitness recently took over the Lifestyle Family Fitness gyms in Sarasota. They have locations on Beneva Road in Sarasota and State Road 70 in Bradenton. This is a great gym for those living in Lakewood Ranch. LA Fitness also built a new gym at Bee Ridge and I-75. It opened in September of 2012 so all of the equipment is new. I hear it is spectacular.
Sarasota Bath and Racquet Club has been a fixture in the area for a long time. This is a popular place to exercise for tennis enthusiasts as well as long time Sarasota residents. This club opened 1969 with 8 tennis courts and a trailer as a clubhouse. 41 years later the Sarasota Bath and Racquet now offers 29 tennis courts, a 40,000 square foot facility with 5 racquetball courts, 3 squash courts, a fully equipped fitness facility, award winning pro shop, Jr. Olympic swimming pool, and a full-service restaurant. This gym is convenient for those living West of the Trail in Sarasota.
The YMCA in Sarasota is very popular. I play racquetball at the Frank Berlin branch off Bahia Vista Road. They have 4 branches in Sarasota

county as well as 4 branches in Manatee county. The YMCA offers everything you can think of under the sun however it is also one of the more expensive fitness facilities in Sarasota.
Studio South Fitness is a boutique fitness facility located near downtown Sarasota. If you want exceptional results, you need the motivation, accountability and individual attention that only a personal trainer can provide. Their highly educated, accredited trainers are at the top of the industry and will inspire you to perform at your peak.
Anytime Fitness, which is located on Clark Road in Sarasota, is open twenty-four hours a day just as its name implies. They emphasize updated, state of the art cardio and weight training equipment, safety through surveillance, and a clean fitness environment. Anytime Fitness has over 1,800 locations all over the world and members may use any one of these facilities.

Sarasota Memorial Healthplex fitness center is located on Rand Boulevard in Sarasota. They offer personal training and a host of exercise classes including spinning, dance, and aquatic exercise programs. Sarasota Memorial Healthplex even have massage therapists on staff to ease those tired muscles post workout. The Sarasota Memorial Healthplex is convenient to neighborhoods in east Sarasota like Bent Tree, Trillium, Serenoa, and Tuscana.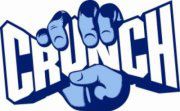 Crunch gyms have recently jumped into the Sarasota market. They have two locations here - the corner of Lockwood Ridge road and University. The other is located on Bee Ridge where the old Golds Gym used to be located. They boast over 80 pieces of cardio equipment, a wide variety of selectorized machines and free weights, specialty personal training and group fitness equipment. Plus, top of the line tanning beds, HyrdroMassage, access to our online nutrition program and plenty of guest passes for friends!

Curves fitness center is located on Tuttle Avenue in Sarasota and is a fitness center that was created for busy women who want an effective way to reach fitness and weight loss goals. Their unique 30 minute work out claims to have women burning up to 500 calories per session. Curves also has a global presence, and membership includes access to all clubs.

Pilates Personal Training Gadar was established by Christina Maria Gadar, a certified Pilates instructor who has over 12 years of experience. Pilates workouts are tougher than many people think, but Christina ensures that her clients are instructed in proper form and technique. Her studio is on Clematis Street in Sarasota.


Sarasota's Non Traditional Forms of Exercise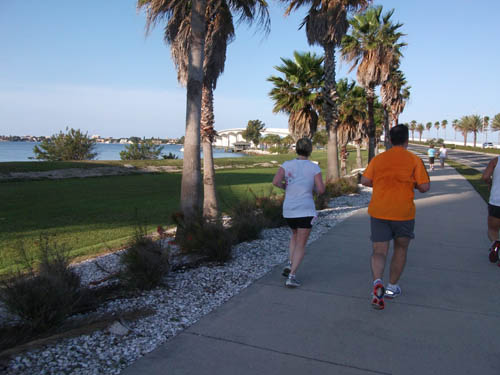 Sarasota also provides the perfect setting for other sporting activities that lead to physical fitness. The beach town provides bike rentals for those who wish to exercise while exploring the area. For those who enjoy racquet ball and tennis, Sarasota's Bath and Racquet Club offers a competitive atmosphere for serious athletes. Although these activities are seen as fun hobbies by participants, they are excellent ways to become physically fit.

One of the most popular forms of exercise of the gym include walking the Ringling Bridge. Every day you will see people walking and running over the bridge for some exercise. The water and downtown skyline views are breathtaking.

The above gyms are really only the tip of the iceberg. Sarasota and Manatee counties are fortunate to have a plethora of exercise options.