Sarasota Lifestyle - LeBarge Tropical Cruises
Posted by Marc Rasmussen on Wednesday, November 21, 2012 at 4:12:44 PM
By Marc Rasmussen / November 21, 2012
Comment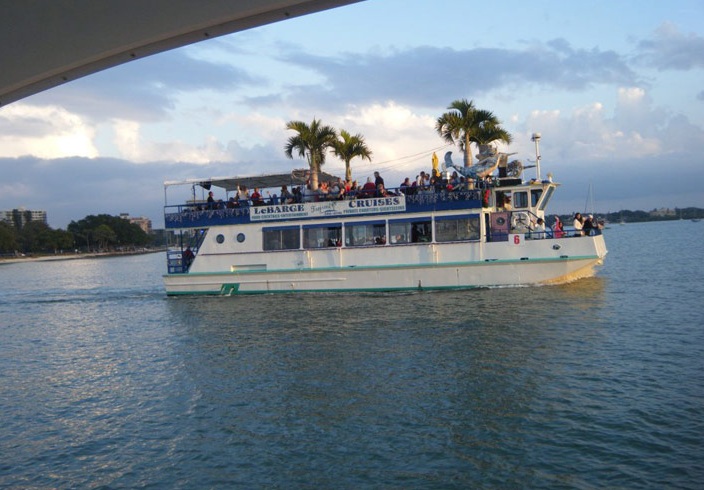 If you ever spend much time in Sarasota you probably noticed this funny looking boat with trees cruising around the bay. Yes, those are actual live trees. I have lived in Sarasota since the mid 1990's and have never had the pleasure of enjoying this cruise. Yesterday, a high school friend came to town for the day and he booked us for a ride on the LeBarge Tropical Cruise. Sometimes you need visitors from out of town to enjoy all of the great things about the city you live in.
The weather was spectacular. My buddy and I sat back and relaxed during this two-hour cruise along the beautiful shoreline of Sarasota Bay. We took in all of fabulous views that Sarasota has to offer and glimpses of the local wildlife as the narrator told us about the fascinating history and folklore of the Sarasota area.  There may have even been a cocktail or two. ;-)
I highly recommend the tour. 

Tour Gorgeous Waterfront Homes
This is a great tour of you are thinking about buying a waterfront home in Sarasota. LeBarge will take you around Harbor Acres, West of the Trail, north Siesta Key, Bird Key and St. Armands Circle where you will see hundreds of amazing waterfront mansions. Many of them look like small condo buildings. 
If you want a more personalized tour of waterfront homes give us 941.822.0708.
Photos from LeBarge