Restaurants with a View
Posted by Marc Rasmussen on Tuesday, December 18, 2012 at 8:35:39 PM
By Marc Rasmussen / December 18, 2012
Comment
We know there are a million wonderful places to eat with water views.  This is bayside Sarasota, after all.  So while the options are seemingly endless, there are a few that locals and regulars to the area have picked up on as special.  These stretch up the coast from Venice to Anna Maria Island, because sometimes the view and the food are worth the drive!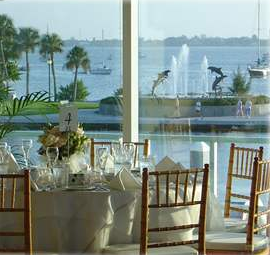 Marina Jack – Located downtown, Marina Jack satisfies locals and tourists alike.  It has three different style restaurants housed under its roof: a lounge, a formal dining room, and an informal patio area.  Live music plays in the lounge and piano bar, and whenever I go to Marina Jack, this is the room in which I choose to sit.  The feel is less formal, the food is reasonably priced and still delicious, and the dance floor is frequently full.  The upstairs provides spectacular views of Sarasota Bay and Island Park.  The wine list is award-winning, literally winning an Award of Excellence in Wine Spectator Magazine in 2012.  If you want to be up close and personal with the waterside view, the Portside Patio is the place for you.  The patio is situated at the docks, and offers live music 7 nights a week.
Phillipi Creek Oyster Bar – Yes, this is the one off of 41 with the giant shark hanging upside down outside of it.  I don't know how many times I passed this place and just noticed that kooky sign.  Located right on Phillipi Creek, with waterfront views whether you sit inside or out, this casual dining restaurant specializes in - what else - oysters!  Since I'm not the biggest oyster fan, I usually opt for some of their other delectable seafood, and I always start off with a bowl of their clam chowder, while everyone I'm with pigs out on oysters on a half shell.  Although it's not the newest or the fanciest restaurant in town, the quaint creek-side oyster bar's food is really out of this world.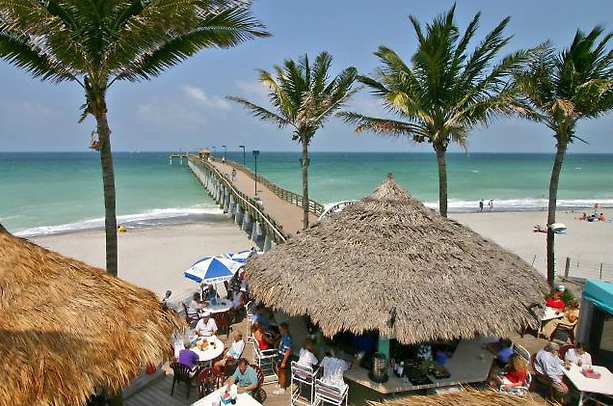 Sharky's on the Pier – This beachfront restaurant and tiki bar is worth the drive down to Venice for truly breathtaking endless ocean views.  The nachos are amazing, the frozen mixed drinks are delicious and reasonably priced, the seafood is mouthwatering, and you just can't beat the view.   The pier behind Sharky's stretches far out onto the bay, and if you're anything like me, the little walk it provides is welcome after chowing down on that many nachos.
Casey Key Fish House – When I looked this one up on their website, "Come by land or by sea – marker 32" was the first thing I saw.  You can actually dock your boat right at this restaurant, as they have 175 feet of deep water dockage!  This casual seafood restaurant opens at 11:30 and offers traditional lunchtime favorites such as fish n chips, and has daily dinner specials, with regulars raving about the Almond Snapper and Willie's homemade Bouillabaisse.  While you're there, take a picture with Captain Morgan at the tiki bar, and enjoy the height of Margaritaville-style island dining.
Mar Vista – Located on the north end of Longboat Key, Mar Vista is one of the 12 oldest structures on Longboat Key, having survived a hurricane in 1921 that took out large parts of the island.  Like Casey Key Fish House, Mar Vista can also be accessed by land or sea, as the most direct route for some will be marker #39.  The outdoor covered deck looks out over Sarasota Bay, and though most of the dinner entrees range in the $20-$30 range, there are many options that are in the under $20 range as well.  When I moved to Florida, this was one of the first restaurants I wanted to go to, because it just felt so…Florida.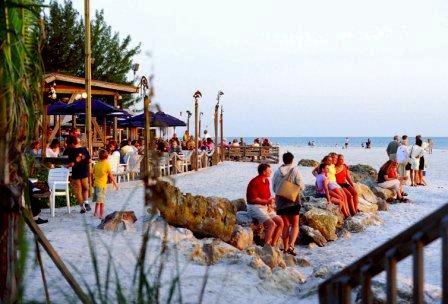 Sandbar Waterfront Restaurant – I've mentioned this restaurant before, in my blog about shopping—"End the day at The Sandbar for a cocktail and some deliciousseafood over a gorgeous beach-front sunset."  And I meant it.  I love shopping the little unique stores on Anna Maria and ending my day on this beautiful island at the Sandbar, where the sunset over Anna Maria Beach should not be missed by anyone who lives here or visits nearby.  Seafood is something I learned to love while living down here, so when I first visited this seafood-specializing restaurant, I was pleased to find there were many delicious non-seafood items on the menu.  Don't miss starting your meal with their spinach artichoke dip—a personal favorite!  Bonus: they have gluten-free menus for every meal!  (More on that later…)
Until next time, happy dining, Sarasota!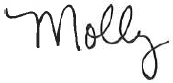 Molly Russo, Sarasota Lifestyle Guru