Q & A for Interior Designer Joan Greenfield
Posted by Marc Rasmussen on Wednesday, March 12, 2014 at 1:21:36 PM
By Marc Rasmussen / March 12, 2014
Comment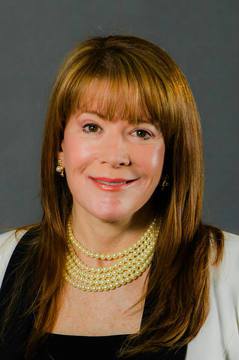 Joan Greenfield is a grad, in Interior Design and Space Planning, from internationally-known Ringling College of Art and Design. She's licensed as an Interior Designer, with the state of Florida, allowing her to do commercial interiors, as well as residential. Along with her specialty in modern and contemporary interiors, she also enjoys color psychology and the new study of neuroarchitecture. Over her 26 years in this field, she's done numerous showcase houses, medical and hospitality spaces, along with residential projects.

Q & A

1) How did you decide to go into Interior Design?

Originally, I graduated with a BSN in nursing, and practiced for 13 years. During that time, my grandmother took me to my first Designer Showcase House, in Phila., and I knew that I had found my calling. I called it my "grand obsession". I told my grandmother that someday I wanted to get my design degree and have my own room in a showcase house. I went back to school at Ringling and graduated in 1987. Reflecting back, the arts were imbedded in my family already. There were Sculptors, china menders, artists, furniture designers, and someone in the fashion industry.

2) What do you like most about Interior Design?

I like that I'm able to let my thoughts float free, to create something that the client never would have thought of, on their own.
When I can offer a unique and functional, solution to make clients happy, there's nothing better.
I also get a kick when I see new fabrics, furniture, and lighting.
I like to see how I can use them in inventive ways. It stimulates me and I feel very alive!
I like to educate my clients, during the presentation phase, explaining why I chose what they are seeing. Believe it or not, there should be a logical reason for each choice.

3) People always ask, "Why should I hire an Interior Designer?". What is your answer to that, Joan?

First, I have to say- please hire a degreed Interior Designer, from an accredited school. Insist on the best credentials. There's a long-time misconception that hiring an Interior Designer will cost too much money.
If you find a Designer, like me, that has direct - dealer status with many manufacturers, it actually costs about the same to have the services of an ID, as going into stores. Designers have so many resources. In most stores, your home will be decorated by someone that has little to no design education. Why not have the best since it costs the same? There are independant Designers that will shop with you in stores. However, you will pay the stores' retail price, then pay the design fee on top of that. I don't like to see that happen to clients.
4) Where does someone start when furnishing and decorating a home?

First, decide on your design style- Mediterranean, tropical, traditional, contemporary, modern, Asian, ethnic, eclectic. Do a furniture space plan to develop your shopping list for all the furniture you'll need in your home. Choose a "lead" fabric to determine all colors in the house. Then build on that fabric, adding others. Stay loose. You can assign the fabrics to rooms after you have gathered them. After the basics are chosen you can add lighting and accessories, etc.

5) If someone is preparing to build a home, should they wait until they move in, to start working with a Designer?

Absolutely not. Engage the services of a Designer even before your plans are finalized. Your Designer will be your advocate, scouring the plans for anything that could be an issue when you move in, like switching plans, window placement, wall space for treasured artwork, etc. When I'm able to start at this stage, my clients get so much more assistance. As long as I'm going to provide most of the furnishings, etc. for the home, I charge a nominal fee to attend the finish selection sessions.

So many clients go into these sessions with no design plan. They're simply overwhelmed and lost.
When I have the design style set, in advance, along with the lead fabrics, a typical 3-4 day ordeal is shortened by at least 1 day. Preparation makes all the difference. I've been on my soapbox about this for years!

Also, furniture can take about 3-4 months to arrive. The Designer needs time to put your design presentation together, before ordering can even start.

6) You mentioned you have an interest in neuroarchitecture. What exactly is this?

Neuroarchitecture studies the relationship between our psychological state and the artificial structures (our buildings and homes) in which we spend most of our time. Then we can use the information to incorporate that insight into the interior design.
The scientific goal of neuroarchitecture is to have a better understanding of the relationship between emotions and design, by observing responses, and measuring the various regions of the brain. For instance- The cerebral cortex registers and expresses emotions. The hippocampus is responsible for memories. And the hypothalamus receives messages from other parts of the body.
So architects and designers have the opportunity to gather information on how people react to the environment they have designed. This research can be carried out on existing structures, on models or even in virtual reality environments.
It gives designers a chance to 'test out' their interior designs by observing the reactions of those who will be inhabiting them, even before the structure is built. This will give them the opportunity to modify and enhance their designs, in order to be more effective.
These techniques are similar to those applied in neuromarketing, using EEG recording, eye tracking, galvanic skin response, micro expressions and virtual reality simulation. I know that's kind of deep, but it's a tool our profession will be using, as time goes on.

7) If you could wish anything for clients, regarding interior design, what would it be?
A) I'd hope for their peace of mind, allowing the Designer to take a lead position in the project. I interviewmy clients very well and know what they will like. With 26 years in this field, knowledge to sink a battleship, and talent, they have no reason to worry. I have their best interest in my heart and want to see them happy. 
B) That they would be open to explore new colors, ideas, and concepts. It's been proven that change can keep you younger for longer. Our environments can actually invigorate or depress us. Update your home, your fashion, and hairstyle. It's a brain stimulator. Look around and see what's happening in the design world that can enhance your life. Flip thru design magazines. Too many people come down to Florida with their furnishings from up north. After paying a good amount of money to movers, changing their geography, they still live in the same interior. Why?

8) What were some of your favorite projects?
One is a commercial, medical project. I enjoyed designing the entire Sarasota Community Blood Bank when it was first built. Because of my medical background, I knew what needed to be done. I used color psychology and was even able to invent various products to improve their efficiency. By the time we had the ground-breaking ceremony, I had everything specified, and ordered. That way it would be delivered in time, when the building was finished.
I also enjoyed doing a residential project where I designed many pieces of furniture, artwork, wall finishes, lighting, and even a sculpture. It took more time and supervision to do this, but wow- it was worth it. This client allowed me to fly and they appreciated the effort and result. Very gratifying.
9) Do you ever just do consultations?
As a matter of fact, I know that many people just need a session where they can get professional help to figure out why their home doesn't feel right to them. They are trying to figure out what to do to make it better. I have a subsidiary of Moderne Int. Design, called Design Diagnostics. I'll come there, walk through the home and start talking. I encourage the client to use their phone to make a recording of the consult. Then they can follow my advice and didn't have to be distracted by taking copious notes. If they would like further assistance, ofcourse I'd be happy to help.

10) When you're not working, what are you doing?
A) I'm kissing my cat constantly.
B) Because of my passion for modern design, I founded MIDAS- Modern Interior Design and Architecture Society. Every month I hold a meeting to educate members on the latest, innovative products and ideas in the industry. I'm trying to get more of the general public to join up. So if any listeners would like to learn what's new and unusual, please contact me, or go to: www.meetup.com/midas. It will take you to a page with many meetup groups. MIDAS is on the top row. You can also google MIDAS and find the link there.
C) I enjoy Broadway musicals, and the arts, in general. I like to customize everything, from pillows, to clothing. I go into JoAnn's and Michaels. I made a trim for a project that was unique and one of a kind. I even designed a pair of shoes, which might get manufactured sometime in the future. Maybe, I'll add Fashion Designer to my resume!


You can find me on FB at Moderne Interior Design.
My website is Moderneinteriordesign.com
My contact number is 941-726-0187.
Email- [email protected]