Poll Reveals Top Mistakes Homebuyers Make
Posted by Marc Rasmussen on Monday, November 7, 2016 at 12:20 PM
By Marc Rasmussen / November 7, 2016
Comment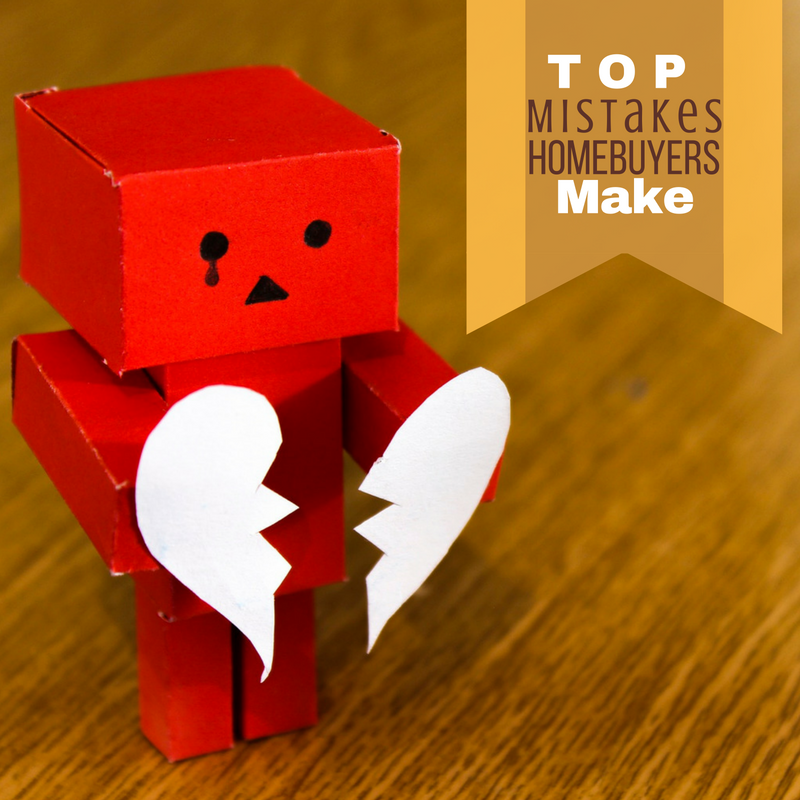 The journey to homeownership can be a windy road with a number of different high and low moments along the way. Nothing beats the elating moment when finding out your contract was accepted, the inspections came back clean, your mortgage has been approved and, finally, the keys are yours at closing. On the flip side, some of the frustrating points during the process can be small hurdles or feel devastating, however many of these issues have been observed and shared by real estate professional. Inman News conducted a poll asking real estate professionals what types of "mistakes" they've witnessed homebuyers make when buying a home. 582 industry professionals participated in the poll and it revealed quite a bit that could potentially save buyers some heartache. When asked "What mistakes have you seen homebuyers make in your career?" and "What is the single biggest mistake you see homebuyers regularly make?" specific responses proved to be common and wide spread. 
Topping the list, Not speaking to a lender first. It's easy to get caught up in online window shopping and get the itch to see some homes in person, but viewing properties without knowing how much house you can afford can have some negative effects. Finding out how much a bank is willing to lend you helps put your selections into perspective. Falling in love with a home far above what you can afford can be a major blow. 61% of respondents claimed this was a problem they have encountered in their career and 18% said it was the biggest issue they've come across. 
The next frequently experienced mistake, waiting to long to make an offer. Buying a house is a big deal and buying the right house definitely requires some serious thought while weighing the pros and cons. However, in active markets like ours it's imperative to act as quickly as possible and not wait too long before deciding to move forward. Nearly 60% of respondents have encounter this issue and a little over 17% of respondents said this was the biggest mistake buyers make.
Stealing third place, offering too little for a property. Bargain deals on real estate are not typically made in a demanding market. With limited inventory and rising prices, Sellers tend to have the upper hand so submitting a lowball offer on a home you really want may mean you'll lose out. Roughly 58% of respondents have encounter this issue and almost 15.5% of respondents said this was the biggest mistake buyers make.
Other buyer pitfalls topping the list: Relying on friends and family advice, paying to much attention to online information and looking at too many homes. Refer to the chart below to see all 17 polled answers and pitfalls to avoide to make your real estate buying experience more pleasant.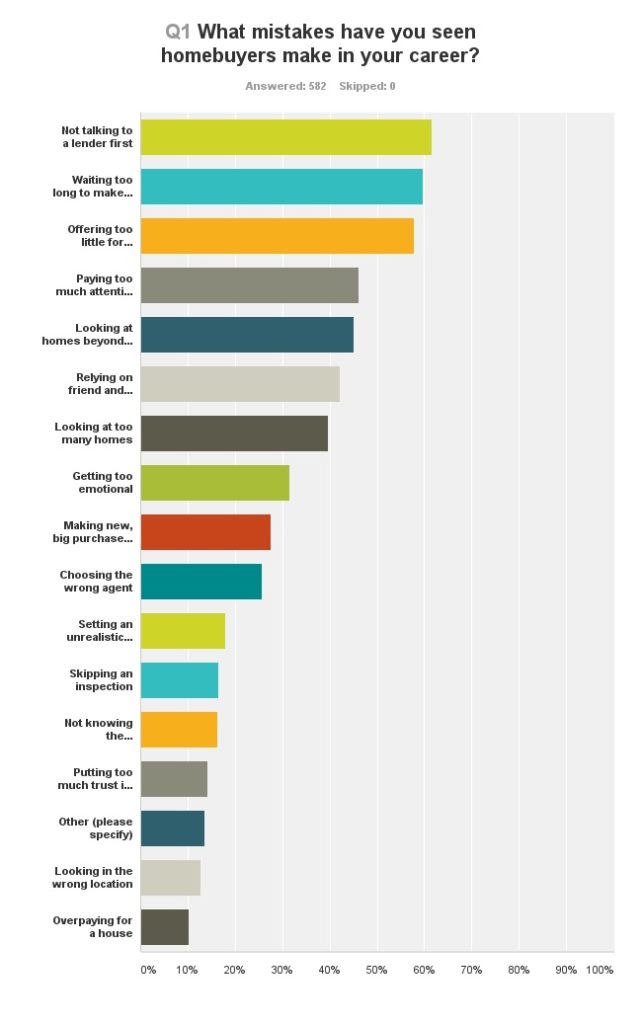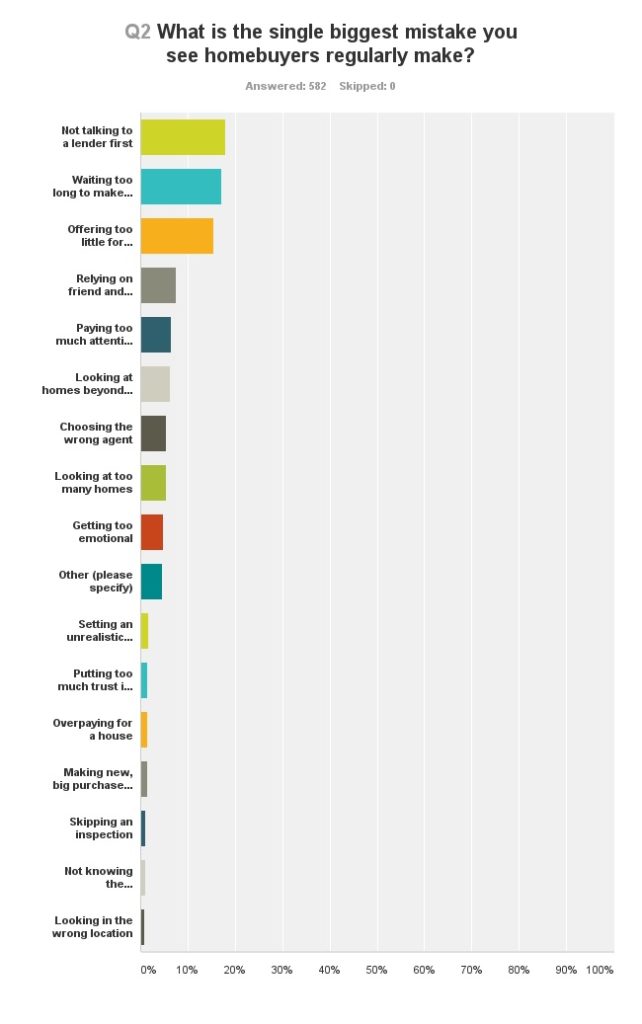 Adapted from the Inman News Article: Poll - These Are The Biggest First-Time Homebuyer Mistakes  | Written By: Marian McPherson