Pet Friendly Activities in Sarasota
Posted by Marc Rasmussen on Sunday, April 22, 2018 at 1:45 PM
By Marc Rasmussen / April 22, 2018
Comment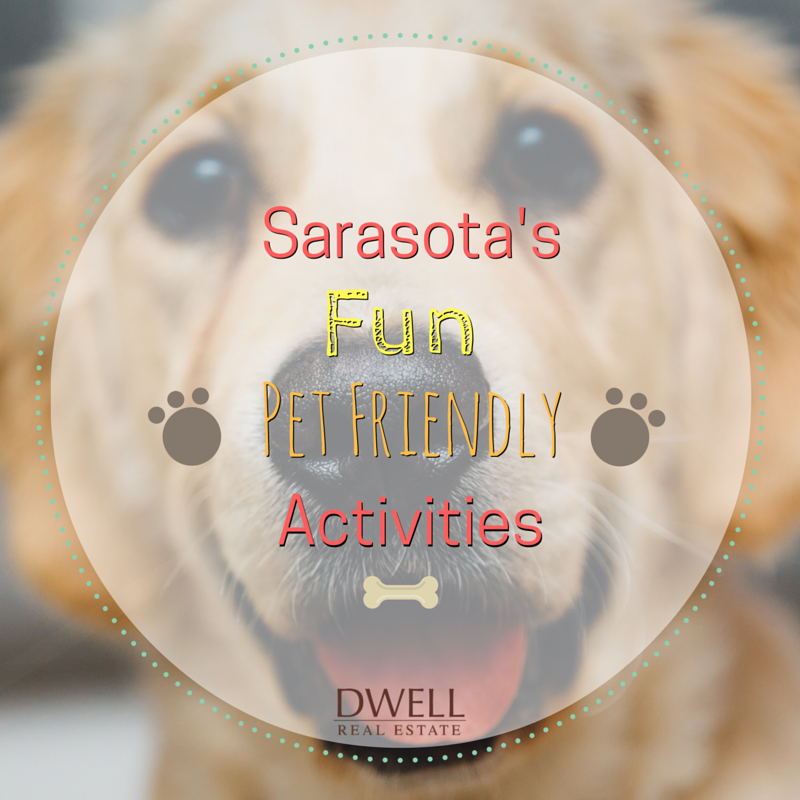 For many of us, our pets are not just pets.... they're our family. We want nothing but the best for them and want to include them in our day-to-day activities since forcing them to stay confined in the house all day tears at our heart strings. If you live in the Sarasota area or plan to, then you have a number of options and activities you can do with your pet. Here are a few of our recommendations for having a fun day out with your furry friend.
1) Splash Around : Living along the Gulf coast has it's perks, especially when it comes to your choice of activities to enjoy the water. Sarasota has a number of different options to take advantage of, even places for your 4 legged friend to splash around. Take a short drive south to Venice and let your pup loose on the beach at Brohard Paw Park. It's the only dog friendly beach in Sarasota county and a favorite spot for many to watch their fur babies the dig in the sand, chase the birds and attack the waves. Bird Key Park is another fantastic spot to let your pet frolic in the water. Located on the west end of the Ringling Bridge as you head onto Lido Key, this park opens to Sarasota Bay and makes the perfect spot to soak up the sun and have some outdoor fun with your pet. If your pet is a true lover of the water, take a canoe or kayak and paddle through the mangrove tunnels or along the intracostal waterways.
2) Hit The Town : Sarasota has a number of pet friendly shops and restaurants in the downtown area and throughout the county. With over 60 restaurants that accommodate outdoor seating for you and fido, enjoy a few hours on the town while grabbing a bite to eat with your fur baby by your side. Main Street and St. Armand's Circle on Lido Key have a few stores that warmly welcome your pets while you shop and there are even a few doggy stores stocked with treats, toys and more. Other popular activities include jogging the Ringling bridge or leisurely walking Bayfront Park next to Marina Jack's. Each offer amazing views of the water and downtown skyline while allowing your leashed pet to let off some pent-up energy.
3) Festivals and Events Galore: From walkathons to craft shows, Sarasota offers a plethora of events to residents and tourists that are pet friendly. The local farmers market and many of the annual festivals hosted all over town love seeing a tail wagging guest stop by the booths. There are even festivals that revolve solely around pets, such as Celebration of Pets and the holiday themed Doggie and Kitty Halloween festival. The Southeastern Guide Dogs and other fundraising events hold walkathons and outdoor activities encouraging all participants to bring their pets to the festivities.
4) A Dog Park for Everyone: No matter where you are in the Sarasota area, there is a fabulous dog park within reach that you'll love bringing your pets to. Many of the off-leash parks are fenced in and have a separate small dog section for the smaller pups. A few even have an agility obstacle course you can lead your pets through. Each park has plenty of room to let your pup stretch their legs and socialize with other dogs. Play a little fetch or let them bathe in the sun, either way, you and your furry friend will have a blast at these local parks. Here are the parks around town where you can take your pet to run and play off the leash.
17th Street Paw Park
4570 17th St., Sarasota
Arlington Paw Park
2650 Waldemere St., Sarasota
Brohard Beach Paw Park
1600 Harbor Drive South, Venice
Lakeview Paw Park
7150 Lago St., Sarasota
Woodmere Paw Park
3951 Woodmere Park Blvd., Sarasota
Ready to find your fur-ever home here in Sarasota? Contact us directly at 941.822.0708 or [email protected]