Overpricing Your Home - Don't do it!
Posted by Marc Rasmussen on Wednesday, November 7, 2012 at 11:05 AM
By Marc Rasmussen / November 7, 2012
Comment
We DWELL agents work with both buyers and sellers in all sectors of the market here in Sarasota and there are some challenges that we help clients face, regardless of the price point or location. One of these is the matter of list price. A major part of your Realtor's job is to guide you to the best price that will get you to your goal – selling your home for the highest price possible in the least amount of time.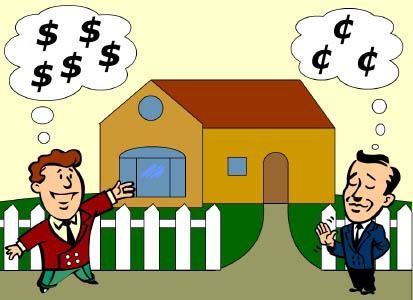 There are a number of reasons, especially in this market where many people bought at the peak and are selling now, that it can be difficult for sellers to price their homes properly. Your Realtor will help you through the process of pricing and all other aspects of the sale. The following are some of the reasons it might be hard to listen to your agent, then the rationale for why you still should :-)
Emotions - When you decide to sell, you likely have lived in and loved your home for a numberof years. This can make it hard to see the situation clearly and to understand the pros and cons. Your real estate agent will see your home with fresh eyes and can explain potential pitfalls that buyers will also see but that you may not. It is helpful to be aware of these first so that some may be remedied before presenting the home to buyers, and secondly so that you are prepared for objections you may face. For example, an odd-shaped living room may not pose any problem for you living in the home, but potential buyers may see it as a problem. You can't change it, but at least you will be prepared when you hear the feedback from buyers. If you have an issue like this, the price of the home may need to be lower to help buyers overcome the objection.
Market Information - Your Realtor will be able to share information with you on recent sales, market conditions, and other factors that help determine the right price. In the current climate, though inventory is down and sellers do have more control than in the past, many are still not thrilled with the number that these factors indicate is the correct price. Your agent doesn't create the market but they can make sure you have all of the information available to price the property right if you really want to sell. Which brings us to the next point…
Timing - There are some potential sellers who are actually not in a hurry to sell. They say "Let's price it at X and just see what happens..." Some agents will respond "Okay, it's your house so we'll do what you want." But let's examine that course of action. Selling your house can be a pain. You have to keep the place tidy then leave for showings, have strangers in your home, etc. If you aren't really ready to sell – or you "need" a price that is higher than the actual value most reasonable buyers will be willing to pay – then why go to the trouble and inconvenience when you aren't really ready?
"What's Wrong With It?" – This is the almost-inevitable question from buyers when they see that a property has been on the market for months and months. Even if you have a fantastic house, they may not even get in the door to see it because they are scared; if no one else has wanted it by now then something must be wrong with it! And it is true, something is wrong with it, but not normally what buyers think. I bet you can guess now…it's overpriced! No matter how bad a property is, if you price it well enough then there will be a buyer. The reverse is also true: regardless of how wonderful a home is, if it is priced way higher than the market, even people who like the home will not want to buy it.
In our market now, the well-priced homes are selling. This is true across the board, from fixer-uppers in shady areas to mansions on the water. The homes that are NOT priced properly, on the other hand, will languish on the market for months or even years. My best advice is to sell when you are really ready to sell. This means less inconvenience for you and a higher chance that you will get the most money for your property.
If you are considering selling or just wonder what your property is worth, please give us a call at 941.822.0708 and we'll be happy to help!