One of Beth's Raving Fans
Posted by Marc Rasmussen on Wednesday, December 24, 2014 at 10:40:36 AM
By Marc Rasmussen / December 24, 2014
Comment
We have such a wonderful group of Realtors in this office, true story! Beth Lancaster is one of them! The letter below is validation of who she is, how she runs her business, and proof that she goes above and beyond for all of her clients. We LOVE stuff like this!!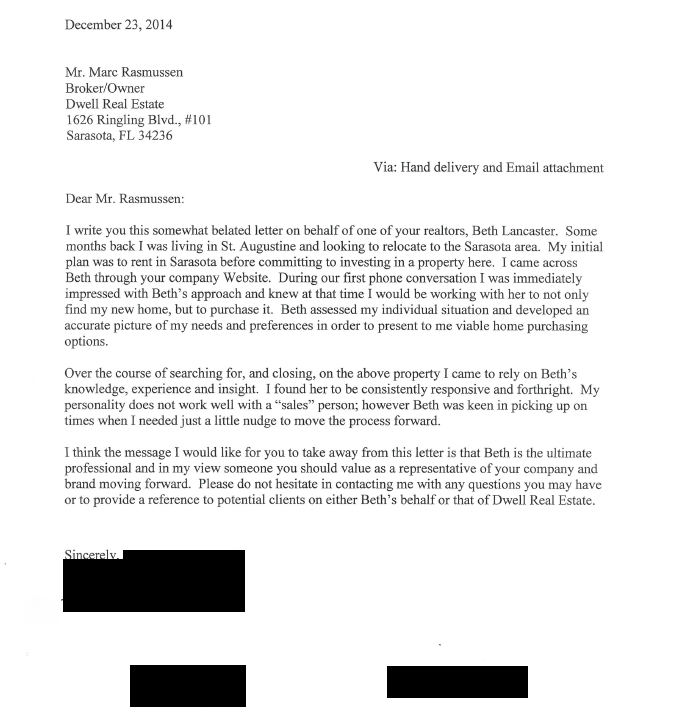 Dear Mr. Rasmussen:

I write you this somewhat belated letter on behalf of one of your realtors, Beth Lancaster.  Some months back I was living in St. Augustine and looking to relocate to the Sarasota area. My initial plan was to rent in Sarasota before committing ot investing in a property here. I came across Beth through your company website. During our first phone conversation I was immediately impressed with Beths approach and knew at that time I would be working with her to not only find my new home but to purchase it.  Beth assessed my individual situation and developed an accurate picture of my needs and preferences in order to present to me viable home purchasing options.

Over the course of searching for, and closing, on the above property I came to rely on Beths knowledge, experience and insight. I found her to be consistently responsive and forthright. My personality does not work well with a "sales" person; however Beth was keen in picking up on times when I needed just a little nudge to move the process forward.

I think the message I would like for you to take away from this letter is that Beth is the ultimate professional and in my view someone you should value as a representative of your company and brand moving forward. Please do not hesitate in contacting me with any questions you may have or to provide a reference to potential clients to either Beths behalf or that of DWELL Real Estate.

And this is the kind of stuff that fuels the fire and passion behind what we do! NICE JOB BETH!!
Thanks for stopping by!