New Downtown Sarasota Condo
Posted by Marc Rasmussen on Monday, March 6, 2023 at 11:53:58 AM
By Marc Rasmussen / March 6, 2023
Comment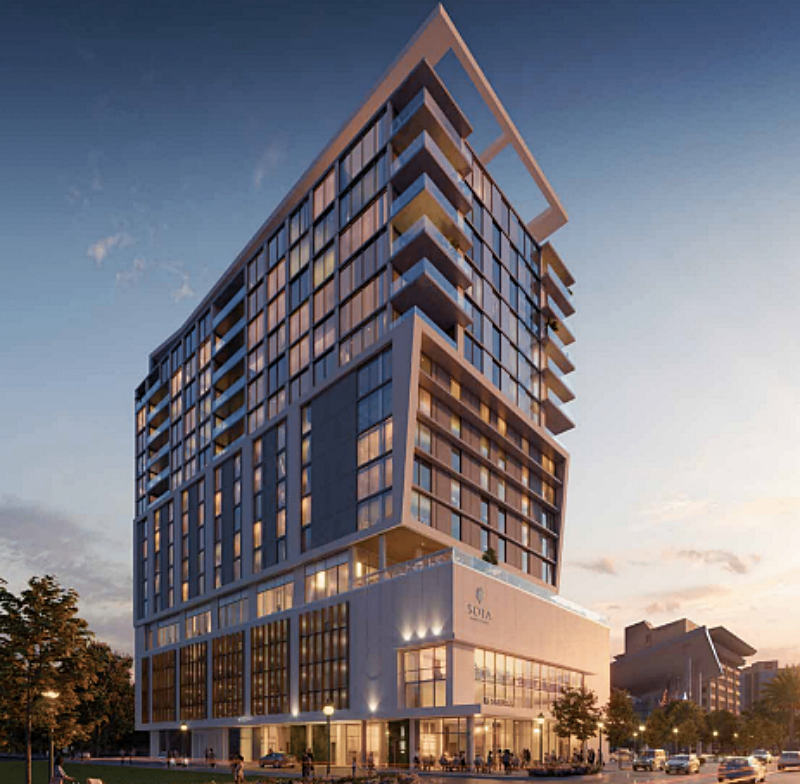 SOTA will be 16 stories high and have luxury residences, hotel suites and a 4,500-square-foot ground-level restaurant open to the public.
East of Orange Avenue, Sarasota's main drag seems to drop off into something that resembles less of a bustling downtown. But SOTA Hotel & Residences, scheduled to break ground this summer, may change that. We wrote about plans for the 16-storied mixed project last year while it was still awaiting final approvals from the City of Sarasota.
Now partially approved, it's one step closer to being a sure thing.
The $115 million project "will elevate the second half of Main Street and tie up loose ends with the other, busier end of downtown," says Rodrigo Trepp of Trepp Developments, which is heading up the project.
Once done, it will be the only hotel on Main Street, and one of the tallest Sarasota structures east of Five Points. Despite the recent flood of development bringing luxury residential condos to the downtown core, Trepp remains confident there's room for more.
"There's a lot of building going on and prices are high but I think the west coast real estate market is strong. You just have to deliver a good product with great services," Trepp says. "The demand is still strong and our prices are relatively competitive.
Residential condos at SOTA range from $1.7 million to $5 million. For comparison, nearby luxury condo buildings, like The Edge, which is scheduled to break ground by April, start at $2.6 million, while condos at the newly finished The Collection, start at $2 million—and only one unit remains available.
In all, SOTA will have 35 condominium residences spanning six floors, 120 hotel rooms managed by Tapestry Collection by Hilton, and a 4,500-square-foot restaurant on the ground floor.
SOTA will sit on nearly half an acre on the corner of Goodrich Avenue and Main Street—land that is currently home to three single-story buildings: Il Panificio, Main Street Shoe Repair and Fringe Spa Salon, which are slated for demolition come May. Groundbreaking for SOTA is June 2023, and the new building will inherit the Il Panificio address of 1703 Main St.
Il Panificio has been a popular destination since 1991. For those already mourning the loss of their famous pizzas, worry not. Nick Melone, whose grandfather started the business, is expected to reinvent SOTA's restaurant, which will be open to the public. At 4,500 square feet, it may not imitate the laid-back neighborhood pizzeria vibe Il Panificio is known for today, but Trepp is excited to bring "something eclectic, upscale and creative," to the space. "Il Panificio will always be there, God willing," says Melone.
Hospitality Group Sarasota Portfolio V LLC, which owns SOTA, bought the parcel from Sarasota's NCN Realty LLC on March 29 for $5 million. NCN Realty is registered to Tracy Melone, Nick Melone's sister.
SOTA, a suffix derivative of Sarasota, is Trepp's first Florida mixed-use project. Originally from Bolivia, he'd previously done some single-family fixer-uppers in Fort Lauderdale, but fell in love with Sarasota when he and his family visited with now-investor partner Mike Ealy of Ohio. Trepp met Ealy on LinkedIn during the 2020 pandemic lockdown and started talking business. When they eventually met locally, "my wife and kids fell in love with the place," Trepp says. The family plans on soon relocating to Lakewood Ranch.
With SOTA, the mingling of both a hotel with a residential component allows the income from the residential piece of the project to cover its initial costs, while the hotel will create an ongoing profit stream. Residents and guests will have access to many of the same amenities, which will be located on the fifth level of the building, along with the hotel lobby. There will be private elevators and entry and exit for both the hotel and residences.
Those amenities include a restaurant and lounge that will be the centerpiece of the fifth floor (this one for residents and hotel guests only), a pool and an expansive pool deck with outdoor dining. There will also be a fitness center, a private residential massage room and a meeting space.
The two- and three-bedroom condos will range in size from 1,800 to 2,500 square feet. One-bedroom condo units are not included in the site plan. There will also be five penthouses on the top floor, with a private residential club room, catering kitchen and an outdoor terrace for sunset and water views.
"It's nice to get a little variety in the same project, and we expressed a strong geometry to clearly delineate the different functions in the building, but also link them vertically," says architect Gary Hoyt of Sarasota-based Hoyt Architects, which has designed many similar projects like the 18-story The Jewel and One Park. Reluctant to box SOTA in with a specific style, he admits the modern look of it is "of its time." The interiors will be designed by New York City-based architect Andre Kikoski.
The building will stand above a four-level, 121-space parking structure that will offer valet parking for hotel guests and dedicated parking spaces for the residential units.
Ingress and egress for drivers will be off of Goodrich Avenue.
Trepp imagines SOTA will attract "people who want live spontaneously, feel young and want to embrace life and enjoy the amazing things downtown has to offer."
A New Mixed Use Tower Is Going to Change the Face of Main Street