My 5-Year-Old's Favorite: Mini-Golf
Posted by Marc Rasmussen on Wednesday, May 22, 2013 at 10:43:56 AM
By Marc Rasmussen / May 22, 2013
1 Comment
My oldest son turns 5 this week, so in honor of him, I'm going to write about his most favorite activity, the thing he asks to do every Saturday, the thing he asks to do every time we drive home from his preschool (which is [in]conveniently located right by a mini-golf course), the only thing he said he wanted for his birthday this year: "Putt-putt, Mommy!"
Like it or not, we live in vacation central down here in wonderful Sarasota.  There are a few downsides that come with being a "tourist town" (I'm looking at you, traffic!) but the perks outweigh the negatives for us.  And one of the best perks is there is no lack of things to do!  A favorite of 5-year-olds and tourists alike is mini-golf, and there are so many unique places to go to play in this town and thanks to my little boy, I've played them all. 
Smuggler's Cove – "The one with the gators!"  With two convenient locations in our area, one in Sarasota on Tamiami just south of the airport and one in Bradenton on Cortez, Sarasota residents have twice as many opportunities to play this unique putt-putt course and feed the pond of alligators at Smuggler's Cove.  This course involves lots of angled shots, but is not too tough for even the youngest player.  My three-year-old happens to enjoy this course, while his older brother sinks holes-in-one at least once per game.  So there's your difficulty level.  However, the unique aspect of gators swimming by you, playing on a giant pirate ship, and the very visually exciting course makes up for its low difficulty level.  It's definitely a course to check out with your kids or grandkids, as I can personally attest that children love this place.  Mine especially love feeding the alligators after they finish a round and checking out the albino alligator that lives at the Tamiami Trail location. 
Evie's – This is a great stop if you're coming with the whole family.  Evie's Tavern on Bee Ridge Road in Sarasota offers not only miniature golf, but an impressive 60-station driving range, an arcade, and a bar/restaurant.  Stick Grandpa at the driving range, send bored teenagers to the arcade, and take your little ones out to the mini-golf course, or just play alone with your partner and enjoy a beer afterwards.  There is definitely something for everyone at Evie's, and I'm pleased to say
that the food here far surpassed my expectations.  This course is much more difficult than the aforementioned Smuggler's Cove, though the props and visuals were not quite as exciting.  I will say, I lost a ball on this course.  There is a hole where you have to hit into the water, a couple where you have to hit over water (an angled upward slope before the "river" provides you with some help here), and plenty where you have to shoot through and around tough objects.  All in all, very fun, but a little frustrating for the younger ones, who lost more balls than I can count on this one.  We spent half the game fishing them out of the water attraction and digging them out of shrubbery.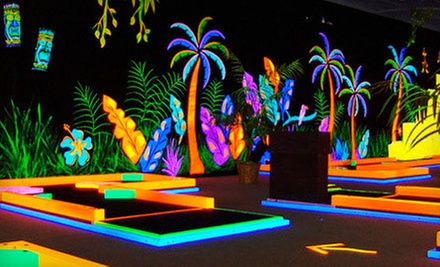 Glow Golf – Located in the mall at Sarasota Square, Glow Golf is a glow-in-the-dark mini-golf experience.  I am so glad I discovered this location, which is not far from my home in south Sarasota, because now I have a place to go when the littles want to play putt-putt on a rainy day.  There are two courses here, both are relatively short in length and relatively easy in difficulty, but this is reflected in its inexpensive price, meaning you can play at least two rounds for the same price of one round at many other putt-putt courses.  The kids of course love the fact that this is glow-in-the-dark, with dayglo colored balls that glow in black light and a course navigated only by glowing yellow paths, but my favorite thing about this course is the end.  If you've gotten any holes-in-one while playing this course, you get to drop a ball in a Plinko-esque board, and if you get that JUST RIGHT, you win a free game.  One day, I brought my kids to this course, paid for myself, 2 four-year-olds (a friend was with us), and my then-two-year-old got to play for free.  My oldest one two free games, so the oldest two played again for free, and then he won ANOTHER free game, which we were given a coupon to use at a later date, because we obviously were all golfed out that day.  The verdict for Glow Golf: great for the kids, great for a rainy day, easy on the pocket book, but don't do if you're looking to be challenged or if you don't have any kids with you—this one is definitely for the kiddos.
So, go enjoy some of the areas best mini-golf!  Maybe I'll see you there, since we're doing a birthday mini-golf excursion this weekend, hitting up all the aforementioned courses in one day.  ;)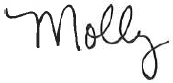 Molly Russo, Sarasota Lifestyle Guru