Follow me for a stroll to The Orchid Beach Club...trust me, you will love this.
Posted by Marc Rasmussen on Wednesday, January 8, 2014 at 3:09:02 PM
By Marc Rasmussen / January 8, 2014
Comment
Who doesn't love the idea of Caribbean Luxury?  Miles of white sand that rests afront a vast endless view of inviting crisp blue water that at times, seems speaks to you…"come on in, I promise you will enjoy." Okay, so maybe I am sharing with you the thoughts that I allow to run rampant in my head when I am enjoying a glass of full bodied, tannic Cabernet and skimming the internet for my dream homes.  Regardless, I want to share with you a location that has provoked such thoughts in my head. The Orchid Beach Club, I implore you to check it out.  The name alone speaks indulgence.  Built in 2005, these two 11 story towers hold 54 exquisite units. You have the option to chose from the Gulf View Tower or Bay View Tower. Oh, how I love options. You can see Sarasota Bay, Downtown, Big Pass, Siesta Key and Lido Key!  Lets not forget the amenities.  To me, amenities are like gifts.  The more, the better.  First, its a beachfront location! I dont know about you, but i could wake up every morning to this view.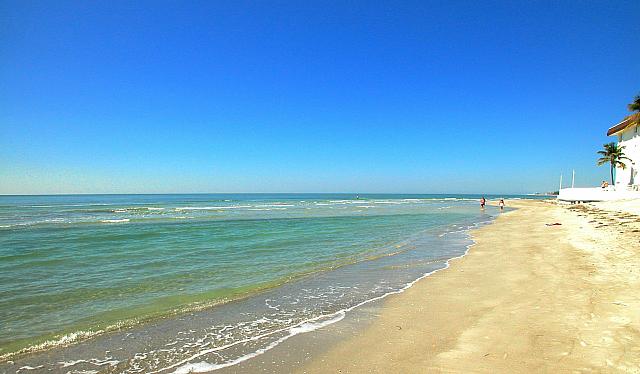 I could also get comfortable in the provided cabanas. If there's ever a time where the thought of sand in your toes does not excite you, then try the pool.  Which also has a grill and summer kitchen. Invite Bob Marley and a few friends and you are instantly in paradise. Being a lady who is constantly on the go, I can definitely appreciate a zen moment here and there.  Why not have this tranquil moment in the Spa or Massage Room? Perhaps find serenity in the steam room or sauna. Trust me, this place offers everything but the gondola ride. Other amenities include: West Indies themed meeting & social room, 2 spacious guest suites, and a fitness center, manned security gate and concierge. Another fabulous attribute of The Orchid Beach Club is the closeness to St. Armand's Circle.  I love shopping, food, wine, and entertainment.  St. Armand's has all of that.  If you decide you are craving mexican food followed by some Italian gelato, you will be pleasantly appeased. If you are in the market for a new outfit, some eclectic trinkets, even a new diamond, be ready because you can find all of that. You are also a short distance from Downtown, where there are just as many options!! No, dont pinch yourself, we are in the NOW and I am being serious.  All of the above are reasons why The Orchid Beach Club rank highly on my list. Don't just take my word for it, check it out!
2013 Orchid Beach Club Sales
| | | | | |
| --- | --- | --- | --- | --- |
| Address: | SQFT. | Price | Bed/Bath | Sold Date: |
| 2050 BENJAMIN FRANKLIN DR # B404 | 2,936 | 1,250,000 | 3/3 | 2/7/2013 |
| 2050 BENJAMIN FRANKLIN DR # B503 | 2,936 | 1,575,000 | 3/3 | 5/31/2013 |
| 2050 BENJAMIN FRANKLIN DR # A701 | 3,242 | 1,625,000 | 3/3.5 | 6/17/2013 |
| 2052 BENJAMIN FRANKLIN DR # D402 | 3,654 | 2,225,000 | 3/3.5 | 4/26/2013 |
| 2052 BENJAMIN FRANKLIN DR # D702 | 3,654 | 2,195,000 | 3/3.5 | 4/10/2013 |
| 2052 BENJAMIN FRANKLIN DRIVE # 202-D | 3,697 | 2,650,000 | 3/3.5 | 6/4/2013 |