DWELL Supports and Raises Funds for Southeastern Guide Dogs
Posted by Marc Rasmussen on Monday, February 22, 2016 at 12:40 PM
By Marc Rasmussen / February 22, 2016
Comment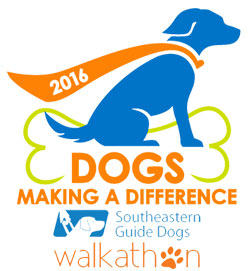 When a great cause comes along, we like to do whatever we can to help make a difference. As part of an effort to help the Southeastern Guide Dogs continue the amazing work they do, DWELL Real Estate is raising funds and has created a team for the upcoming walkathon fundraiser.
Since 1982, Southeastern Guide Dogs has generated more than 400 graduates across the U.S. and places more than 100 dogs each year into the homes of people with visual impairments, and veterans. They are a nonprofit organization that provides all of its services free of charge and receives no government assistance. These dogs are truly life changing and for over 30 years have acted as miracle workers for thousands of individuals needing their assistance. Born, raised and trained at their 33- acre campus in Palmetto, Southeastern Guide Dogs breeds 3 specific dogs, Labrador retrievers, golden retrievers and goldadors (Labrador/golden retriever mix). Volunteer puppy raisers house the dogs for the first two years of their lives to teach them manners, basic obedience and expose them to the sights, scents and sounds of the world. At about 14 months old, the puppies begin extensive, accredited training to be certified guide dogs and when they graduate they'll be carefully paired with their forever owner.
The organization is hoping to generate $1,000,000 for the 2016 year. DWELL Real Estate is actively working to reach our target goal of $5,000. So far, we've successfully raised over $1,000 and only have a minimal $4,000 to go. A donation of any size will go a long way and help us inch closer to our pledged goal. If you'd like to do more than just donate, participate in the walkaton with us by joining team DWELLers and meeting at Payne Park in Downtown Sarasota on March 19th at 8:30am to walk the 3k walkathon. This is a pet friendly event so don't forget to bring your fur babies to join in on the fun. Click here to Donate and/or join Team DWELLers.
Again, a donation of any size, big or small, will go towards an extraordinary organization and help create these adorable superheros for those who need them most.
** To donate, click on the link above, scroll to the bottom of the Team DWELLers page, select any one of the "Donate" buttons placed on the right hand side of our team members**