Downtown Sarasota Luxury Condo Craze
Posted by Marc Rasmussen on Wednesday, December 19, 2018 at 10:24 AM
By Marc Rasmussen / December 19, 2018
Comment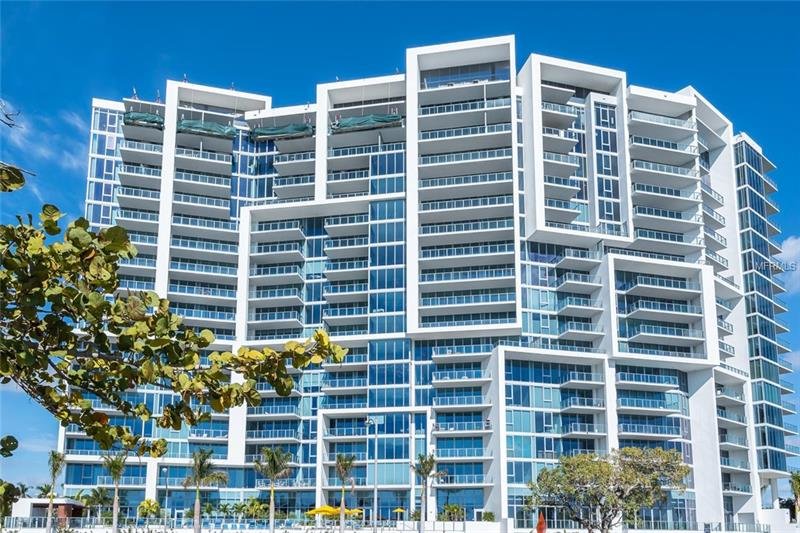 Home buyers still crave luxury condominiums in downtown Sarasota towers. Which is a good thing, because two more will be rising out of the ground in the coming months, a third and fourth are well underway, a fifth just held a topping-off celebration, a sixth is seeking the city's blessing to proceed, a seventh sold out before construction ended and an eighth will launch pre-construction sales next month. Three other luxury condo towers have debuted since 2017.
The projects are proving to be quite popular.
"The Vue was the first new construction for downtown Sarasota in about 10 years," said Nancy Arbuckle, director of New Homes and Condominiums at Michael Saunders & Co. "The pent-up demand for new condominium homes designed with lifestyle in mind, compounded with panoramic views, fueled a fast sales pace."
The 18-story Vue Sarasota Bay, part of the Kolter Group's development of the adjacent Westin Hotel, began to rise in 2014 and "had a steady pace of sales," said Ed Jahn, senior vice president of Kolter Urban, a subsidiary of Kolter Group.
Sales started in June 2014, and half of Vue's 141 condo residences were sold by February 2015. More than 90 percent of the units — 133 — sold in the first two years, he said. The Vue opened this past March.
Other upscale, high-rise projects are aimed at filling various markets.
"There are more choices of price, amenities and services, meaning that today's buyer will favor the one that best caters to their current or desired lifestyle," Arbuckle said.
One of the most visible construction projects sits in the heart of downtown in an enviable location for an urban lifestyle. Two tower cranes poking into the skyline continue slinging building material up and down and piecing together the 12-story luxury condominium, retail and commercial project called the Mark Sarasota.
Construction still has quite a while to go, with a target completion date about a year away. But the developer, Kolter Urban, staged a "topping off" celebration this month after work crews reached the highest point in the skeletal frame.
The triangular tower will feature 157 residences varying from 1,354 to 2,969 square feet, with 39 unique great-room floor plans and prices from $799,000 to $2,499,000. Sales are brisk for a place nobody can call home for another year. Eighty percent of the condos have been sold. Twenty reservations were made by early 2016, months ahead of the start of construction.
Where the buyers are coming from
But where the heck are all these people coming from? "The largest group of buyers is local," Arbuckle said, "and about 5 to 10 percent are those new to the area with no prior relationship with Sarasota."
Those locals are coming off the island to enjoy downtown's walkable lifestyle, she said. Others are empty nesters leaving Lakewood Ranch now that their children are grown.
"They're looking to downsize and worry less about the maintenance of a single-family home," Arbuckle said.
Kolter Urban, a division of the West Palm Beach-based Kolter Group, focuses on luxury urban projects around the Southeast. The company broke ground in September on the Ritz-Carlton Residences on the Quay, an extension of the adjacent Ritz campus.
Kolter scored more than $100 million in Ritz sales before a shovel even hit the dirt. The 18-story tower will hold only 73 residences, with prices from $2.4 million to $8 million. The building is expected to open in the fourth quarter of 2020.
When construction started, Bob Vail, president of Kolter Urban, said: "The tremendous response to this project shows that the market for ultra-luxury waterfront living is alive and well on Sarasota Bay."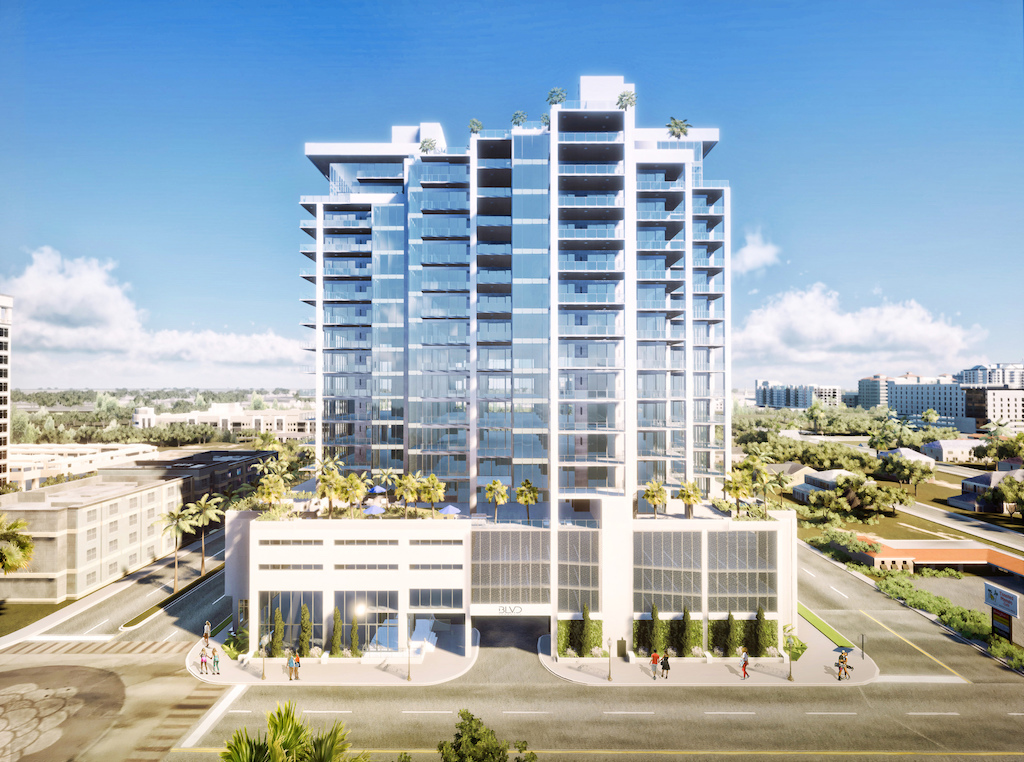 The Ritz Residences could get an 18-story neighbor called the Auteur. BOTA Development Holdings LLC filed plans with the city for a mixed-use project with 57 condos, a restaurant and shops just east of the Hyatt Regency on Boulevard of the Arts. Fifty-five residences in the Auteur carry proposed prices of $1.75 million to $3.5 million.
And then there are another 45 condos in BLVD, another 18-story tower rising on the intersection of Tamiami Trail and Boulevard of the Arts. Two more sky cranes mark the site. Core Development sold half the residences, priced from $1.9 million to $3.5 million and ranging from 3,550 to 5,400 square feet, by June — well before protective fencing went up around the site.
The deal here is customized floor plans and private terraces designed for dramatic downtown and bay views. The 18th-floor amenity level includes an infinity edge pool, outdoor kitchen, fire pits, lounge area and sundeck. Other amenities include an indoor golf driving range, fifth-floor pet park and a fitness center. An early 2020 opening is expected.
The reason for the 18-story trend
The 18-story trend continues with The DeMarcay. The building at 33 S. Palm Ave. will sport a resort-style rooftop pool and fitness center with panoramic views of the Gulf of Mexico and Sarasota Bay.
"Interest in The DeMarcay from the community has continued to be strong," said Greg Kveton, partner at GK Development.
Construction isn't scheduled to begin until next summer with an estimated 18-month build-out, but the sales center will open at the end of January. "Rapid sales" are expected.
The 18-story, 624 Palm tower proved popular, too, with all 23 residences sold either pre-construction or during the first year of work, said Amy Drake, a broker who handled the condo sales for Seaward Development. This tower is amenity rich, too, with an outdoor yoga terrace; a pool and spa with fire pit, grill and bar; and a rooftop terrace with lounge seating and an outdoor kitchen. Construction was substantially complete in January. The boutique condominium community between South Palm and Gulfstream Avenues offers unobstructed views of Sarasota Bay and Bayfront Park.
Besides the VUE and 624 Palm, another 18-story condo tower, The Jewel, opened on the corner of Main Street and Gulfstream Avenue, and a 10-story high-rise opened in Burns Square.
Why is 18 the magic number for these towers? Because that's the maximum height under city zoning regulations.
Between the Ritz and Autuer, Jacksonville-based GreenPointe Communities LLC is installing infrastructure for the 15-acre Quay Sarasota Waterfront District, where ground-breaking occurred in May. The site is already approved for 695 residential units, 175 hotel rooms, 38,972 square feet of office space and 189,050 square feet of commercial space.
The overall project represents a $1 billion investment by GreenPointe and other investors.
The Mark's intriguing features
Back to the Mark, possibly the most intriguing project.
Billed as "the most comprehensive live, work, walk and play address," vinyl banners plastered on the fence around the construction site proclaim "Downtown is Downstairs." That slogan fits because the 1.6-acre, two-block property sits at Pineapple and Lemon avenues and State Street, a stone's throw from all the action on Main Street.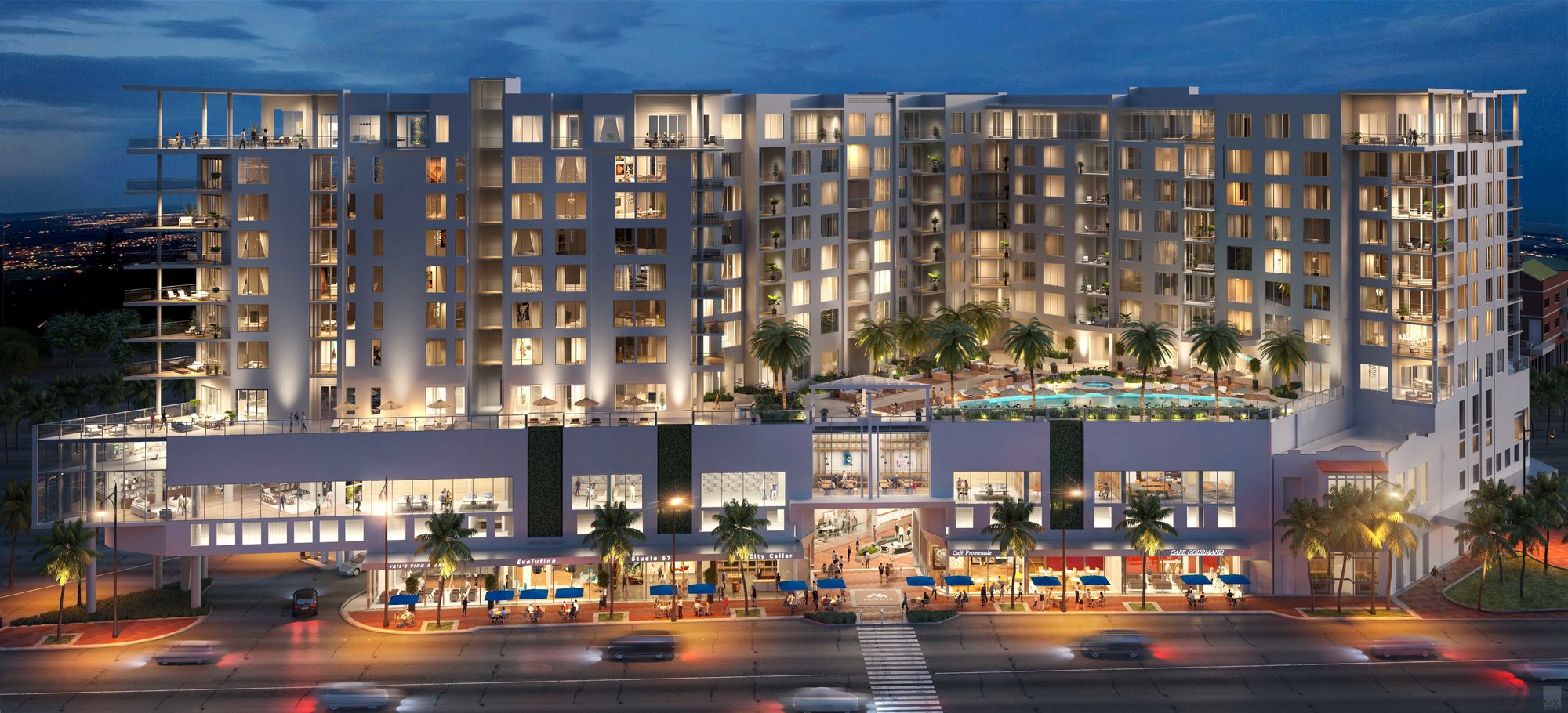 But the tower will host its own action, too, with 35,000 square feet of restaurants, entertainment and retail space on the ground floor and 11,000 square feet of upscale office space that will conceal three levels of parking in the building's interior.
One of the Mark's prime attractions has to be the private fifth-level resort-style amenity deck featuring an elevated resort-style pool with private cabanas, fire-pit lounge and outdoor cooking area as well as a fitness center, media room and club bar. The floor also holds quite a few residences.
As you might imagine, the finish packages in the condos are all high-end, from Jenn-Air kitchen appliances to Grohe bath vanity fixtures. And there has to be a 24/7 front-desk staff, secured access everywhere and access-controlled elevators.
Perhaps most curious of all, the Mark's retail and restaurant Promenade will stretch through the building with a streetscape designed for casual outdoor experiences.
"Having recently topped off, we're continuing to see the interest surrounding Mark Sarasota grow," said Jahn of Kolter Urban. "Sales are exceeding our expectations, with 80 percent of units already sold, and with some of our best residences remaining, we're anticipating an exciting season.
"Construction is coming along as planned, and we're on track to deliver our first units in the fall of 2019."
If you're after a Mark penthouse, only two of the 13 remain.
Original Post by: Chris Wille in Sarasota Herald Tribune