Buffett - "I'd Buy Up Millions of Single Family Homes If I Could"
Posted by Marc Rasmussen on Monday, February 27, 2012 at 2:45 PM
By Marc Rasmussen / February 27, 2012
1 Comment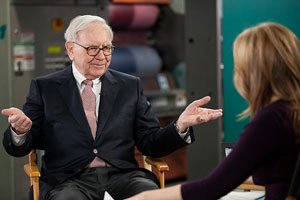 I am always interested to hear what Warren Buffett has to say. Watch this CNBC video - I'd Buy up Millions of Single Family Homes if I Could. His comments about the real estate market are found around the 5:00 minute mark. Glad to see that he is bullish on the housing market. Here are some highlights from the article:
Warren Buffett says along with equities, single-family homes are a very attractive investment right now.
Appearing live on CNBC's Squawk Box, Buffett tells Becky Quick he'd buy up "millions" of single family homes if it were practical to do so.
If held for a long period of time and purchased at low rates, Buffett says houses are even better than stocks.  He advises buyers to take out a 30-year mortgage and refinance if rates go down.
Later in the video:
Aside from the housing sector, Buffett says the U.S. economic recovery is healthy and won't be derailed by rising oil prices.  He repeated what he's been saying throughout the recession, that it's always been a "terrible mistake" to be pessimistic on the U.S. over the long term.
Give us a call at 941.812.6272 if we can help you buy or sell a home in the Sarasota area.