Amazon's Turnkey Program – All it's Cracked Up to Be?
Posted by Marc Rasmussen on Wednesday, August 14, 2019 at 3:17 PM
By Marc Rasmussen / August 14, 2019
Comment
By Liane Jamason
It sounds great, right? The headlines this week have been "Amazon will give you $5K in free smart home tech and more when you buy a house"! But how do they do that?!
I dug a little deeper into the new Amazon Turnkey Program. To qualify for Turnkey, Amazon teams you up with a Realogy agent. Realogy includes Coldwell Banker, Century 21, Better Homes and Gardens Real Estate, ERA, and Sotheby's International Realty. All great companies. But, you do not get to choose which agent you get when you use this program. That can be a problem. Here's why... Let's say you are selling your home. Do you want an agent that knows the neighborhood? Sure you do. Maybe one who is a top negotiator in their field who'll bring you the highest possible selling price? Of course. When selling your home in the past, you've probably researched and interviewed agents and found out who is top in the area, who has a fantastic marketing plan, and that's who you choose. That's how most people do - and that's a great way to do it. But if you want that Amazon benefit, again, you don't get to choose your agent. So, you don't know if you've got a great experienced negotiator, or someone fresh out of real estate school with no experience or negotiation skills. Hmm.... But $5,000 is a lot of money, Liane! Sure it is. But to get that benefit you'll have you spend over $700,000 on a home. And it's actually $1,500 in services, $5,000 total if you count what some Ring doorbells and Fire cubes cost.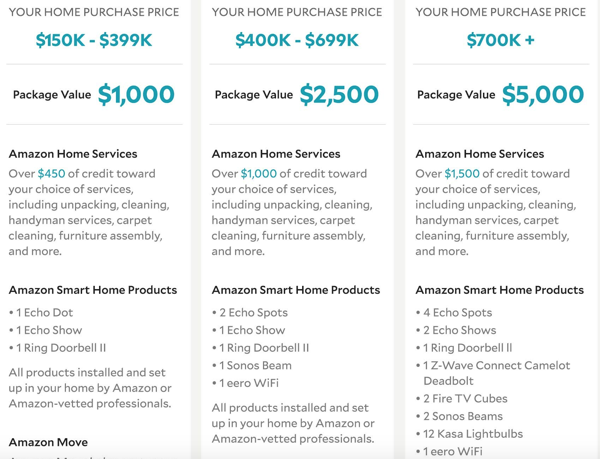 Recently, I went on a listing appointment for a home in St. Petersburg where the seller had already interviewed 2 other Realtors. One of those agents was from St. Pete and the other was from Tampa and didn't sell much in St. Pete. Both agents told the seller their home was worth between $195,000-$200,000. I looked at the home and said it's worth $220,000 all day long. They were shocked but pleased and went with me. Guess what it sold for? $220,000 - their asking price, before it even went live in the MLS thanks to my coming soon marketing strategies.
If they'd gone with another agent (one could have been a Turnkey agent for all I know), they would have lost $20,000. Sure they would've received an Echo Dot, and Echo Show and Ring Doorbell at that price point, but is that really worth losing $20,000?
I think not.
It's the same when you are buying a home. You need a top negotiator who knows the area and the comparable sales to negotiate the best purchase price for you. Not to mention someone you choose with experience will have great connections to good lenders, title agents, and more. My point is, don't let the tech offer put stars in your eyes. Don't let them just choose any Realtor for you, we are not all the same!
It's much like choosing Redfin to sell your home - that 1 or 2% listing fee seems really attractive until you find out that they often employ agents with no experience straight out of real estate school on a salary, who only work 9 to 5, Monday through Friday. Do you think that agent is going to negotiate your deal as well as someone with 10+ years experience?
Absolutely not.
Choose the best negotiator and marketing expert when it's time to sell (or buy) your home. They will save you more than Amazon ever could, and with all that savings, you can buy all the Echo Dots you want, one for every room! Heck, maybe if your agent is cool enough, they'll get you an Echo Dot or Ring Doorbell for a closing gift. :)