Great Places to Dine on Valentines Day
Posted by Marc Rasmussen on Tuesday, February 11, 2014 at 3:21:19 PM
By Marc Rasmussen / February 11, 2014
Comment
I would be lying if I said I didn't love the copious amounts of hearts & lips in every shade of pink and red along with roses galore that line almost every shelf in the stores this time of year.  OH, and the chocolate, mustn't forget that.  Sea Salt & Caramel Truffles, Milk Chocolate & Pistachio, Dark Chocolate with Chili Pepper, remember I love options! In every occasion, food=happiness, even on Valentine's Day! Sarasota has so many dining options to choose from, depending on what you are craving. If you are going out for the lover's holiday, here are a few suggestions where the food and the ambiance will keep you coming back for more.
Indigenous
Indigenous: There are no words to fully explain my adoration for this establishment!! Everything from the décor to the tables and chairs are native to Sarasota.  Chef Phelps creativity tops the charts, he is a culinary genius! His passion for food shows in every detail!  Using locally sourced and sustainable ingredients he has created a menu like no other!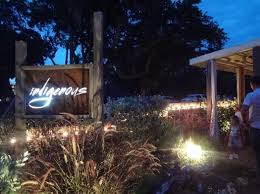 Every course offers so many options it will literally leave you struggling to choose which items to indulge in. The menu, to me is like a favorite book that I never want to end.  The descriptions alone paints a picture in your mind so exquisite that you may start to salivate.  A few things you will find on his menu: Pork Belly with a maple coffee custard, Parmesan Beignets, & Braised Beef Short Ribs, all of which I've had.  They are so complex and the many levels of flavor you experience, it's a culinary work of art in my opinion.  One feature that I just LOVE, is the variety of fish.  It changes according to what is in season and when you order it they will tell you where it was caught, the name of the boat AND the name of the captain.  I love it! It's the little details such as this that makes Indigenous a fantastic dining experience. I cannot count the number of times I've had "My Uncles Burger",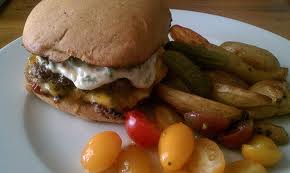 read the description and you will partially understand my passion for this!   I love a good burger just like anyone else, but this takes it to a completely different level.  I would challenge anyone to find a better burger in a fine dining establishment!  Now, having mentioned "fine dining" I should also add that it's not a suit & tie kind of place.   Ladies, a bohemian top with a cute pair of skinny jeans and heels; pair that with a clutch and accessories to match (being a lady is not easy!) or gentlemen a button down with your favorite Lucky Jeans and you are set! I am such a cheerleader for this place; I promise if you check it out, you will not be let down!
Yume Sushi
YUME: I could eat sushi 5 days a week, true story.  I've been to a ton of restaurants for sushi, and YUME is by far one of my favorites.  My eyes are always WAY bigger than my stomach but it never stops me. Lesson NEVER learned. It's easy to assume that if you've seen one sushi bar, you've seen them all.  Not the case here, the menu is so colorful with creations that justify my addiction.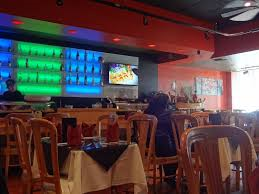 Little details impact my long term commitment to a restaurant.  I don't want to just sit down and eat, I want the interaction with the staff, I want to ask questions about the ingredients and get the full scoop, I want to appreciate every detail down to the glass that my wine is served in.  Little did I know, my first visit would be the start of a loyal relationship with YUME.  I sat at the sushi bar and before I could even order my refreshing, earthy, iced green tea, the chef handed me a scrumptious tuna creation.  I asked where on the menu was this delicious morsel to which he replied "it's not on the menu, I just made it for you" Whether it was intended for me or the next person who walked through the door, it did not matter.  It was an extra step to make me feel special.  After wasting half my lunch break trying to eliminate what I wanted, to a portion that was suitable for one, I handed in my sheet. The anticipation had built up before the most beautiful plate was placed before me. When you get as excited about food as I do, 5 minutes seems like 5 hours. There it was, a vivid plate of mouth watering sushi. The presentation and attention to detail made me ALMOST want to leave it be. But not really.  I was slightly embarrassed by the time I was finished because even though my intent was to order modestly, I failed.   Not only did I fail, but I finished….every….single…piece. I probably left the chef wondering where the ziplock baggie was that I was hiding my food in!  I visit YUME often, and always leave satisfied. If you love sushi, then you have my word, you will leave happy too!
In an effort to not write a novel, I narrowed it down to these two places.  It does not stop here though, Sarasota has so many fantastic places for the foodies out there-these are just two of my favorites!!
Salute!