5 Questions to Ponder Before Purchasing a Fixer Upper
Posted by Marc Rasmussen on Wednesday, September 18, 2019 at 10:06 AM
By Marc Rasmussen / September 18, 2019
Comment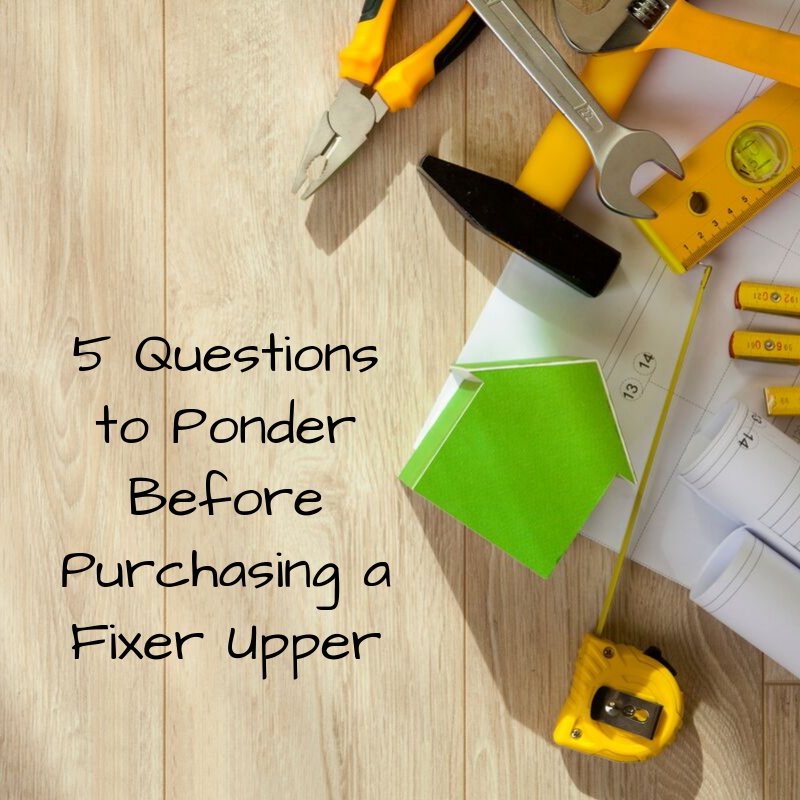 For some, renovating a property yourself is the best available option. Whether it be specific criteria you want from a home, lack of inventory in your market, investment strategy or just the satisfaction of bringing a "good bones" property back to life. In the era of house flipping reality TV, it's easy to get caught up in television glamor and tell yourself "I can do that". While it is doable to pull off a successful home renovation, it's crucial to analyze the process and prepare yourself for what's to come. Here are some vital questions to consider before you take the steps to purchase a fixer upper.
Why am I Doing This?
Seems like a simple question, but being honest with yourself and digging to the root of this question acts as the starting point to your "is a fixer upper right for you" flow chart. If this is your first time renovating a home, there is far more work cut out for you than what HGTV crams into a 1 hour show. Working through a renovation can be stressful and absorb a lot of your time, money and patience. Pin down what is motivating you to do this and evaluate if your why holds up after answering the next 4 questions.
What Budget am I Comfortable Staying In?
Some properties may only need some minor updates or cosmetic work; those are the best kinds of renovations to work with. Others may need bigger ticket items addressed like the roof, plumbing, foundation issues. It's best to get a budget range in mind to help narrow the properties that fit what you can reasonably afford fixing up. It's not uncommon to find a property that appears in good shape but after ripping away carpet and tearing down walls new discoveries take a hit on your budget. A good reason to be sure you do a thorough home inspection and have a professional walk through with you to give realistic quotes to get the job done.
How am I paying for this?
The best scenario would be to have the funds you want to renovate saved and ready to go for when you purchase your fixer upper. Depending on your situation, that might not be realistic, especially if it's a property that needs some extra special help. Fortunately lenders have a few different types of loans that can help if you are cash strapped.The FHA 203(k) is a loan from the Federal Housing Administration with a minimum 3.5% down payment. There is a process and restrictions on how the loan can be applied to the home renovation, for one the foundation must stay in tact and no "luxury" items (fire pits or pools) can be factored in and the work needs to be done in 6 months. This could be a good option to bring a time warped property into the 21st century.
Another loan option would be the Fannie Mae HomeStyle loan. Comparable to the FHA 203(k) loan, but requires a minimum 5% down payment but your renovation project isn't limited to the types of upgrades you want to include, as long as everything is permanently affixed to the home and adds value.
Talk to your lender about the financing options and if that process is in line with what you'd like to accomplish.
Where am I living During the renovation
If you've ever lived in a property undergoing construction, it's not the easiest living situation. A kitchen in disarray or a gutted bathroom or going about your day to day routine navigating around contractors, supplies and tools is tough. For some, maintaining a normal lifestyle is important which means living off site until the work is done. If you don't have another place to stay during that time, factor into your budge some funds to put towards a place to rent.
Am I ready to Manage this Project
Hopefully the other four questions have naturally lead you to this last question. From finding the right property and seeing the deal through to the closing table, then hiring contractors and securing permits, making the final decisions for supplies, colors and design… This is an all in engagement from start to finish. Honestly ask yourself if you have the time and the patience to manage everything. Working with a general contractor to oversee the remodel can help manage the workload, and being flexible with your vision will make things easier if any hiccups should arise but be sure you are fully prepared to tackle all aspects of transforming a fixer upper before you commit to the purchase.