16-Story Mixed-Use Project to Replace Il Panificio
Posted by Marc Rasmussen on Friday, July 22, 2022 at 11:19 AM
By Marc Rasmussen / July 22, 2022
Comment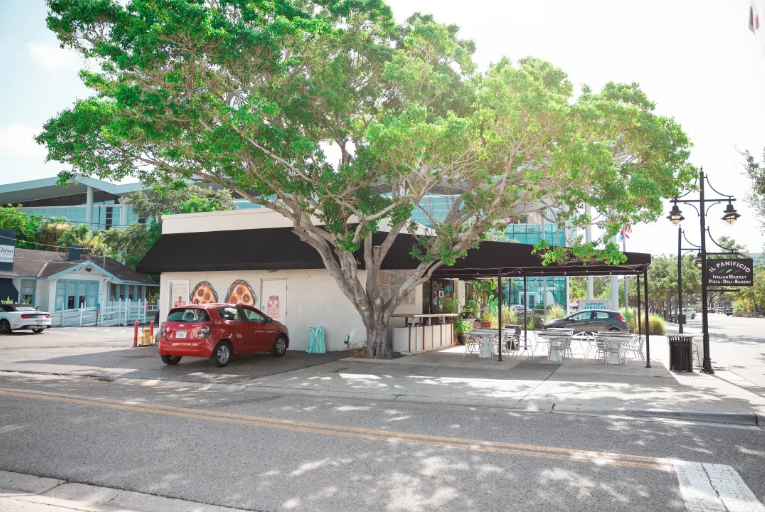 A new 16-story building is coming to downtown Sarasota in a space that's currently home to Il Panificio pizzeria.
It will have 120 hotel rooms, 35 residential units and 126 parking spaces, and the ground floor will include a two-level restaurant open to the public. The project will sit on nearly half an acre on the corner of Goodrich Avenue and Main Street—land that is currently home to three single-story buildings: Il Panificio, Main Street Shoe Repair and Fringe Spa Salon. The new building will inherit the Panificio address of 1703 Main St., Sarasota.
The project will require the demolition of all three buildings. Il Panificio has been a popular destination since 1991. For those of you mourning the loss, chin up: There's another location on Siesta Key.
According to architectural drawings, the first floor of the new building will be dedicated to a two-story, 4,500-square-foot restaurant and lobby, and levels two through four are for parking. The hotel starts on the fifth floor, where guests can access a 2,032-square-foot bar and dining area, a swimming pool and a gym. The hotel's 120 units will span levels six through 10 and will range from 371 to 624 square feet.
Levels 11 through 16 will be dedicated to residential units, with six per floor, except up at the top, where the 16th floor will have five penthouses. The units have two or three bedrooms and range from 1,380 to 2,626 square feet.
The Kentucky company Hospitality Group Sarasota Portfolio V LLC bought the parcel from Sarasota's NCN Realty LLC on March 29 for $5 million. NCN Realty is registered to Tracy Melone, who owns and manages Il Panificio. NCN purchased the parcel in 2001 for $578,900.
The new project is led by Aventura-based Trepp Developments, which gained an exception to build up to 16 levels thanks to a city zoning code provision that allows the director of development services to approve up to two buildings that exceed the downtown core height restriction. Otherwise, the height limit in the downtown core is 10 stories.
While the project does not have to come back to the City of Sarasota Development Review Committee for further approval, there are still comments from a few city departments the applicant must address before final approval is granted.
Local firm Hoyt Architects is leading the design and renderings are in the works. The firm is also designing the upcoming 18-story One Park luxury condominium tower headed to the bayfront.