10 Ways it Pays to Buy a Home
Posted by Marc Rasmussen on Thursday, November 21, 2019 at 4:12 PM
By Marc Rasmussen / November 21, 2019
Comment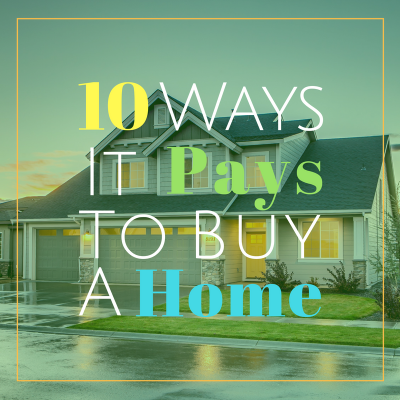 The new year is just around the corner and more than just flipping the calendar over to January. It's a fresh start, a new perspective, a time to set and meet goals or even fulfill dreams. For a number of people, being a homeowner is all of those things and more. Even with dreams of owning a home, tons of potential buyers still settle to rent claiming it's the better option. While renting can illusively seem ideal, time and time again buying a home makes far more sense. If you're still not convinced, here are 10 ways it really pays to buy and be a homeowner.
1) Your Roof, Your Rules: The beauty of homeownership is, simply put, it's yours! There is no lease dictating your living terms or a time limit outlining how long you can stay. IT'S YOURS! Own your home for 3 years or forever, it's up to you.
2) Make It Your Own: Tying into the "it's yours" idea, when you own a home you can make the modifications you want to make it your own. If you want fresh paint and an updated kitchen, it's a project you get to plan and execute. The final product is your vision and ultimately what you want.
3) Tax Write-Offs: When the tax man comes calling, it's always nice to have a few deductions to lighten the burden of tax day. Items such as property taxes, account costs and mortgage interest are all tax deductible allowing you to keep a little more change in your pocket. Renting does not provide a tax benefit .
4) Consistent Payments: When you secure and lock-in your fixed rate mortgage to purchase a home, you can feel safe knowing this is the payment you will always make each month for the duration of your loan. With a rental, you are at the mercy of the landlord and they don't have to have a rhyme or reason for increasing it each year, nor do they have to abide by a certain percentage increase. Plus, there will come a day when you've satisfied your mortgage and you won't have to make another payment on it again.
5) Home Appreciation: When you buy a car and drive it off the lot the car's value immediately decreases, but when you buy real estate, typically the value of the property increase over time. The real estate market is cyclical and will go through a number of highs and lows but traditionally over time you'll find a property is worth more now that 20-30 years ago. Property appreciation is good for you and your net worth.
6) Less Than Rent: In a lot of cases, buyers who switched from renting to owning found that paying a mortgage was less expensive than paying rent. The upfront cost to purchasing can seem like a lot but will ultimately be easier on the wallet from there on out. As mentioned before, there will be a day when the property is paid outright and you wont have to pay another dime to call it yours. Renting is the never ending cycle of paying for something that can never be yours, and who wants that?
7) Growing Your Nest Egg: Investing in your IRA, 401K and stock portfolio are great ways to contribute to your financial future and owning a home can help in the same way. As stated before, real estate over time should be worth more than when it was initially acquired. Once the mortgage is paid in full, you'll have a great little nest egg ready to be cracked open when the time is right.
8) Privacy: Prefer fewer visits from your landlord "checking-in" or feel your residence is too exposed to your neighbors? Owning a home can help is establishing a more private set-up; add a fence to your yard or plant some thick vegetation around the yard, set-up a surveillance system or install the heavy-duty curtains to create a space where you can find your zen away from any nosy neighbors.
9) Community Connection: Live where you love and love where you live. Owning a home in a community you enjoy is a great place for you to connect with neighbors and make a difference in your neighborhood. Participate in community yard sales and picnics and get to know the fellow homeowners for more than a year at a time. If you own in an HOA or Condo community, join the board and help your community thrive and continue to be a great area to call home.
10) Equity: The difference between what you owe on your loan and the value of your home is known as equity. Having equity is a great way to add to your wealth and can act as a financial safety net for large, unexpected expenses.
Ready to make the switch to homeownership? Let DWELL help you, contact us at 941.822.0708 or [email protected]