10 Signs That You're Overpriced
Posted by Marc Rasmussen on Wednesday, March 9, 2016 at 10:48 AM
By Marc Rasmussen / March 9, 2016
9 Comments
We all want to sell our properties for more than they are worth. Dealing with a seller who wants to overprice their property can be a Realtor's biggest frustration.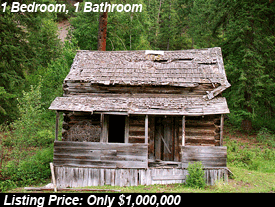 There is nothing wrong with wanting to find a buyer willing to overpay for your home. It is just human nature.
The most common reason a property is not selling is because of price. In most instances it has nothing to do with how often it is being advertised, the quality of brochure, how many websites the listing is found on etc.
HOWEVER, there are some instances where price is NOT the problem. It could be a lack of good marketing, or cumbersome Realtor access to show the property, bad photos, dirty house, bad lighting, bad Realtor, slow real estate market, high interest rates, tight lending guidelines etc.
10 Signs That You Might Have Overpriced Your Property
1. Your asking price formula was something similar to: mortgage balance + Realtor fees + credit card balance + car loan payoff.
2. You are praying every night for a cash buyer that won't do an appraisal.
3. You based your asking price on how much you spent improving it.
4. Your home has been on the market a long time.
5. You are getting little to no showings.
6. Despite several showings, no buyer has made an offer.
7. You start insisting that your Realtor advertise your home to wealthy people in China.
8. Your asking price was based solely on what other (unsold) sellers are asking for in your neighborhood rather than homes that actually have sold.
9. Your agent didn't agree with your pricing, or worse – the first agent you spoke with refused to list your home at "your" price so you had to search for someone else who would.
10. You believe your house is so "unique" from all other homes, even though most of the properties for sale in your neighborhood offer about the same size, age, condition, location and view.