10 Remarks from Unrealistic Home Buyers
Posted by Marc Rasmussen on Friday, August 20, 2021 at 9:23 AM
By Marc Rasmussen / August 20, 2021
13 Comments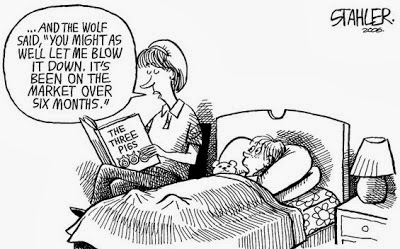 The 10 remarks of unrealistic home buyers listed below are mostly comical in nature. However, I have heard all of these (or something very close) over the years. If you are a Realtor selling homes in Sarasota then you probably have as well.
Part of our compensation as real estate agents comes from educating the consumer. This list might come across as complaining but I really am not. Make no mistake, we love our home buyers (and sellers). Hopefully, consumers will continue to need us Realtors as much as we need them.
Allegedly Heard from Sarasota Home Buyers ;-)
1. "I am in control of this deal. The sellers need me more than I need them. They should be thanking me."
2. "I can probably get a mortgage without a problem. Let's go find the house now and then we will worry later about how to pay for it."
3. "I would like to find a house on Bird Key overlooking the bay for $1,000,000."
4. "Thank you for showing us these Sarasota real estate market statistics. My sister's boyfriend is a waiter at Chili's but has his real estate license. He told me that it is still a buyer's market."
5. "I know the roof checked out fine in the inspection, but we would like the sellers to install a new metal roof for us. We love the way they look."
4. "I would like to make an offer for 70% of the asking price. I won't pay much more than that." (The average price discount in Sarasota hovers around 5%)
5. "I would like a beach condo for $300,000. It needs to be newer and have an unobstructed water view."
6. "I want to put down $2,000 and have the seller hold a mortgage for the rest."
7. "We want a new home with some privacy and a lake view within walking distance of downtown."
8. "I would like to lease option a beach front condo on Longboat Key. Can you help me find a seller that won't ask me to put much money down?"
9. "Here is our home inspection report. We would like the sellers to paint the entire house inside and out."
10. "I plan on retiring in 9 years but want to look at some property now. Can we see these 11 homes this weekend?"

Originally wrote WEDNESDAY, OCTOBER 16TH, 2013