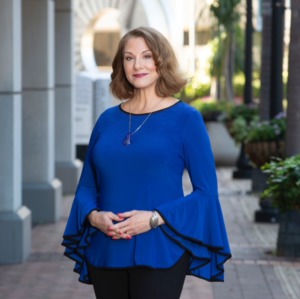 A 25 year resident in the Sarasota area, Cathy began her real estate career in her native Midwest as a leasing agent/negotiator, manager and marketing director of mixed use retail/office centers and held an Illinois real estate sales license. During those years, she served on the Board of Directors of her local Rotary club, a downtown promotion corporation, a regional advertising and marketing agency, and a number of non-profit organizations. Cathy also was featured in an industry magazine for her marketing skills, was a contributing author to an industry book on shopping center management and conducted customer service training workshops for retail managers and staff. This breadth of experience, working alongside and serving people from all walks of life, makes it easy for her to establish an excellent rapport with nearly everyone she meets.
Later work as an independent consultant and professional coach/mentor enhanced her role as a trusted guide and benefits buyers and sellers as they navigate the process from the listing or offer through closing. Described by past clients as insightful, a focused listener, creative problem solver, and savvy negotiator, she's prepared to assist clients with exceptional service, market knowledge, and a high level of professionalism.
Cathy has earned The Institute for Luxury Home Marketing's Certified Luxury Home Marketing Specialist™ (CLHMS) designation and Million Dollar GUILD™ in recognition of experience, knowledge, and expertise in high-end residential properties and million-dollar and above residential properties. The Institute is an exclusive group of real estate professionals who have completed The Institute's training and have a proven performance in the upper-tier market.
Cathy is also an artist who has renovated homes and assisted homeowners with design concepts, faux finishing, and home decorating. She has an eye for aesthetic qualities with the ability to help buyers envision the potential in a home and help sellers present their homes for maximum appeal to prospective buyers.
As you become acquainted with Cathy, you'll find she's a jazz lover, oil and watercolor artist, musician and composer of instrumental music, and also enjoys exploring the shore, retreats with her husband at their Colorado mountain cabin, outdoor activities, reading, as well as spending time at two of her favorite Sarasota treasures – Selby Botanical Gardens and the Ringling Museum of Art.
Her philosophy – "Every business is a 'people business' and especially the business of real estate. A satisfying experience and successful outcome for the Seller or Buyer is dependent upon effective communication, market knowledge, competence, strong relationships, integrity, and a win-win mindset! Buying or selling a home is much more than an issue of construction style, price, function, or special features. A home is where so many chapters in the story of your life have or will be written….the process for a seller or buyer demands sensitivity, patience, encouragement, support, and respect. I believe true success and a meaningful career is the result of working under the premise that people matter most of all."
Testimonials:
In all our years dealing with real estate and realtors, Valarie and I never met anyone like Cathy. Cathy was the liaison between all parties not only the listing agent but also the closing agent, the condo association and the bank.  If it weren't for Cathy I don't think the entire process would have been a success.  She was the glue that held things together……..The main reason for this e-mail is not just to highlight the numerous tasks that Cathy performed for us, but to recognize her for her qualities that go beyond her real estate responsibilities.  Cathy was always courteous, friendly and responsive to our needs.  She was our advocate and established a relationship that immediately gained our trust. I have worked real estate part time in my past and have been involved in numerous estate transactions. Never have I met anyone who performed the real estate function as professionally as Cathy Loeppke. She is a remarkable representative of your office and we will gladly sing her praises to anyone looking for property in the Sarasota area.  Thank you for sending Cathy our way!
 
Gratefully,
Creighton and Valarie
Dwell's Cathy Loeppke helped find us our beautiful home in Palmer Ranch. (Lakewood Ranch) She is very knowledgeable and provided us with excellent service, from the start of the home-search process until the purchase closing. Cathy also helped us build our confidence in selecting a community that is desirable and a  perfect fit for us. We are new to Sarasota - having just relocated from the Northeast U.S. - and Cathy masterfully equipped us with her expert guidance and inputs that surely helped us in making an important, intelligent home purchase.
 Daniel & Toby S.
Cathy,
Olga and I again want to thank you for the time that you spent with us and assisting us in the purchase of a home in Englewood.  We appreciated your highly professional approach and the recommendations that you provided to us for the various aspects of searching and home buying.  Your communications with us were always prompt and provided us with any information that we requested. We will highly recommend you to anyone that we know who may be considering purchasing a home in the Sarasota area. 
Sincerely,
Olga and Henry
Cathy, I've worked in real estate for over 30 years as an attorney and I must tell you you are one of the best brokers I have ever worked with both residential and commercial.
Thank you,
Joyce